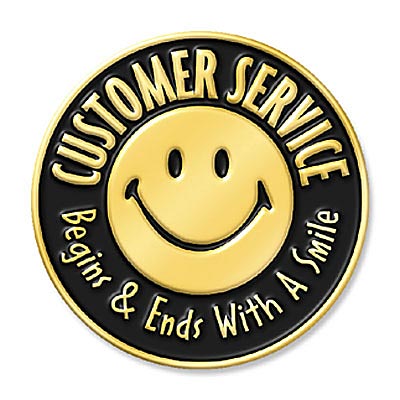 In our last blog, we discussed the high importance that we, here at MeloTel, place on customer service. We believe in caring and respecting our clients while providing them with specialized service. We know that it's important for our customers to not just be able to rely on the products and services we provide them. They need to depend on us too. It's all about service with a smile.
Smiling is infectious, we often hear our President John Meloche say. He explains further in a blog entitled, "The Good Cold". "A negative attitude or sour disposition turns people off," wrote John, "while a positive attitude and optimistic outlook turns people on. People absolutely love to associate with positively charged individuals who possess a great attitude day in and day out."
This is the basis of the MeloTel customer service regimen. We know that if a customer is having a bad day, it will only get worse if the attitude shown that person on the phone is a sour one. On the other hand, if service is provided with a smile – a.k.a. A positive attitude – it just may do the trick in turning the customer's day around. Situations like these really help make the mark of a company.
"One customer called up and said that there was a death in his family," revealed one of our team members recently, "I took the time to express my condolences and even gave him the opportunity to openly grieve a little. I reassured him that we would do everything in our power to make his life as easy as possible during his rough time, even adding a bonus feature to his account. He was very grateful."
This customer, by the way, has gone on to be one of our biggest clients. Enrolling in a number of features and constantly commenting about how much he enjoys working with us, this client has helped MeloTel remain steadfast in our commitment to the "service with a smile" doctrine. More than just retaining clients, our staff is well-versed in changing people's days.
"I was pretty upset," another customer admitted to us, "I thought I was going to lose my business. I actually had considered canceling my services because I didn't think I could afford them. You guys took the time to show me empathy, plus gave me options that made it feasible to keep running my business. That meant a lot to me. You deserve more recognition."
You never know what could be going through the minds of the customers that enter your place of business. It's really important not to let their negative attitudes affect yours. Everyone is entitled to a bad day. They do not, however, deserve to have it made worse by a company that they could be assisting by doing business with. Cherish your customers. It's only right.
Well, at least that the way we think, here at MeloTel. Are you getting service with a smile from all of the companies that you do business with? We're thinking…not so much. That has been our experience. And this is why we do our best to make the experiences of our customers great ones every time. Give us a call and find out what it's like to get service with a smile. Dial 1-888-MELOTEL!