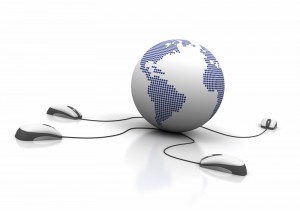 We live in a world where Facebook and Twitter are the most popular tools used by people to communicate. A decade ago, these social media platforms were unheard of. Social media networking itself had not yet caught fire. And as such, we thought a lot differently ten years back. Today, we live in a world that lives on the cloud. The internet, arguably, is our new home.
This is why communicating over the cloud is practically a necessity for business owners these days. VoIP or Voice Over Internet Protocol provides business with capabilities like never before. This is especially true for call centres that require numerous employees to man various phone lines and take several calls simultaneously. The benefits of VoIP in a call centre environment are clearly explained by InsideCRM.com:
"VoIP involves using the Internet for telephone service. Essentially, it works by digitizing speech, splitting it into packets and sending those packets over the Internet to be reassembled at their destination. The most common destination is an access point in the regular dial-up network…VoIP can connect to a dial-up network and make conventional phone calls from just about anywhere."
Not only is the functionality of VoIP one that provides crystal clear phone calls that offer more flexibility and improved integration with data systems, but it also costs less. Arguably, this is what attracts most Canadian business owners to our VoIP telephone services. Over the past several years, thousands have made the switch to MeloTel because of the money they are saving.
Essentially, we provide our customers with the ability to drop their local phone lines by replacing them with broadband internet connections. Naturally, this greatly reduces costs incurred by telephone bills. MeloTel has, in the past, and continues to offer would-be clients the opportunities to have their current phone bills reviewed. After doing so, we provide them with clear-cut information about how much money they can save.
Perhaps InsideCRM.com puts it best when they reveal that, "the feature that originally attracted call centres to VoIP was its lower cost. A residential customer switching her phone service to VoIP can easily save $40 per month in service fees. The savings for enterprises routinely run in the millions of dollars per year." Now who doesn't like to save money?
In addition, it's important to remember how much flexibility using VoIP can give your business. With an internet connection instead of a traditional phone line, you can conduct your business over the phone from just about anywhere in the world. You can allow your agents to work from home or from a variety of call centre locations throughout the globe. This is a big benefit to both your employees and your payroll.
Going back to improving integration with your data systems, VoIP allows you to record and maintain data as all calls can be recorded and stored in your data system. This is great for monitoring calls for the purpose of improving customer service as well as tracking your sales. For more information on MeloTel's VoIP telephone services, give us a call at 1-888-MELOTEL. It's the new way of the world!