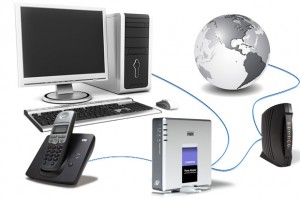 Over the past several weeks, the MeloTel Blog has done a lot talking about customer service, social networking and blogging. These are some of the things that we specialize in and therefore, we feel very passionate about providing them to our customers. We don't want you to forget, however, how MeloTel pretty much got its start.
Upon founding MeloTel, we aspired to be Canada's VoIP phone service company of the future. And while providing VoIP services is still very much are part of our expertise, we are well aware that the concept of "Voice over Internet Protocol" is still a fairly new one.
We also know this, however. VoIP is most certainly the way of the future. So we figured we'd remind you about its many benefits. And you don't just have to take our word for it, by the way. On EzineArticles.com, Alex Tipu writes that "it looks like it is only a matter of time that VoIP will be substituted for regular phones."
One of the reasons that Tipu states this is because VoIP "is one of the easiest and cheapest ways of communication." He describes the seemingly-futuristic service as one that essentially converts your voice into a digital signal that travels across the internet. It enables customers to make calls using their computers as their phones.
This is why MeloTel has always been so excited about offering its clients top-of-the-line VoIP services. With the knowledge that the future will see more and more phone lines being discarded for this brand of communication, we like to feel that we are on pace, if not ahead, of today's techonology-driven world.
It also deserves repeating that the cost to use VoIP is significantly cheaper than that of a standard phone line. Long distance charges, for example, have practically been made extinct through the use of VoIP services. Also, as Tipu points out, with the advent of Wi-Fi, VoIP is no longer confined to just PCs, desktops and laptops.
As long as you are in range of a signal, you can make calls on a cordless phone from just about anywhere within your office or home. Not to mention, writes Tipu, "the future plans of VoIP service providers is to even loose these insubstantial bonds and enable consumers to make VoIP calls from their cell phones."
We'll take a further look at the benefits of VoIP in our next blog!