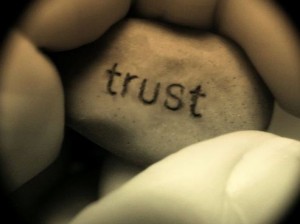 Ask anyone. What's the most important element of any relationship? Chances are, the majority of the time, you'll hear "trust" as the answer. After all, what is a relationship if you don't trust the other party or parties in the relationship? And it doesn't matter what kind either. Husband or wife. Boyfriend or girlfriend. Teammate or coach. Best friend or best man. Trust is always key.
This is especially important in the world of business. This is why we, here at MeloTel, work so hard to build trusting relationships with our customers. We stay steadfast in upholding all of our promises and will go over and beyond the call of duty – if necessary – to ensure that he hold true to our guarantees. We know that our trustworthiness is of paramount value to all of our customers.
On the flip side, if a company loses the trust of its customers, it is likely that the relationship will be torn forever. One of our closest friends shared a story with us recently about renting a car during a trip to Miami, Florida. He signed for the car and received a receipt detailing the total of all of the charges.
A week or two after his trip, he received an invoice outlining a cost much higher than the one he signed for. "It said that I rented the car for three days when I only had it for two," he explained. After contacting the rental company directly, he was told that the car was returned an hour after the 48-hour rental period had expired.
"The guy who rented me the car said that I had until 4:30p.m. to return the car on the day it was due. I had it in by 4," he revealed, "Somehow they think I'm supposed to pay for an extra day even though I was told I brought the car in on time. There was no damage, the tank was full – there was no reason for any additional charges."
Needless to say, our friend is incensed, having to undertake a dispute in an effort to have his credit card credited for the additional charges. Moreover, he has lost any and all trust with the car rental company he rented the car from and is insistent that he will never rent from them again.
"If they don't resolve this issue for me," he declared, "I'll be tweeting about how bad this company is on a daily basis." It has been said that any publicity is good publicity. But in a situation such as this, it is clear that the attention our friend plans on bringing to this car rental company will not be favourable.
Trust is very important. Earning the trust of your clients is one of the best possible ways to build long lasting customer relationships and encourage referrals. In our final blog of the week, we will take a look at an Entre-Propel.com article that outlines a few benefits of being a trustworthy business.