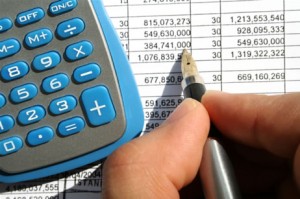 Earlier this week, QMI Agency reported that 69 per cent of Canadian shoppers were able to stay within their budgets over the Christmas holidays. According to a Royal Bank of Canada poll, most Canadians were able to do so because of their concerns about going into post-holiday debt.
If Canadian shoppers can stay within a budget, Canadian business owners should surely be able to do the same. In our last blog, we took a look at a Microsoft.com article by freelance writer, Jeff Wuorio that outlined ways that entrepreneurs can work within a budget. These tips are bound to be helpful, especially for small business owners who may have no other options but to maintain tight budgets.
Err on the side of conservative. Wuorio suggests that when setting your budget, you should overestimate your expenses just a little bit and "lowball" your expected revenue. This way, you will better ensure that your cash flow will hold up. Budget-saving strategies including special telephone plans and less expensive office furniture should also be part of the plan.
Nurture a cash cushion. Remember that staying within a budget is a plan, not a certainty. You may be on a budget, but you will always want to set aside some money "for a rainy day" as they say. You never know when your "hidden" income may save the day because an unexpected expense has come up. You would basically be creating your own bail out!
Check your budget every month. This is an important tip. You don't want to neglect your overall objective by simply being lazy. Make sure that each month, you are examining your budget so that you have enough funds to meet your needs. This practice may require you adjusting your budget on a month-to-month basis.
Use your budget as a form of restraint, not constraint! Writes Wuorio: "Setting up and sticking to a solid budget is the most effective teacher of fiscal discipline there is. But don't be shy about busting your budget on occasion should something truly warrant it." In other words, there are times when you may want to cut yourself a little slack.
Sometimes situations will arise that require an unexpected amount of spending. But if these situations provide beneficial business opportunities, you wouldn't want to miss out on them for the sake of being frugal. A valuable investment for your business will pay dividends down the road. Just be certain that it's a sure shot!
Naturally, these unexpected events are hard to budget for. But as Wuorio explains, "It's often impossible to budget for a valuable last-minute seminar or a trip to a trade show to make valuable contacts. If you are too rigid with your budget, you'll refuse to spend when you really should."