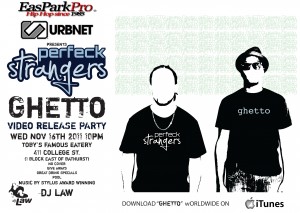 You may recall a few months back – long before he began growing his moustache for Movember (donate now!) – MeloTel's President, John Meloche released his very own hip-hop single! Entitled, "888-MELOTEL", the bouncy rap ode to his telecommunications company is something most of his friends thought he would never be able to pull off.
Check it out here:
Check it out!
But just in case you thought John's foray into the world of entertainment was over, it's time to guess again. The President of MeloTel is now dabbling in the world of acting – sort of. Collaborating once again with his friend and notable Toronto hip-hop artist, Dan-e-o, John earned himself a role in the veteran rapper's latest music video. Dan-e-o, by the way, wrote and produced "888-MELOTEL" for John a few months back.
His first as part of the duo Perfeck Strangers, Dan-e-o's latest single is entitled "Ghetto". Set for release next week, the video for "Ghetto" features a number of characters performing what are considered "ghetto" acts. For example, John plays a flashy, over-the-top show off who has a classy car with a superior sound system – but doesn't have enough gas in the tank to drive it!
When asked why he selected John for this role, Dan-e-o spoke candidly. "I don't know why John isn't more heavily involved in entertainment," he laughed, "He's put together some of the most entertaining videos and sounds clips I've ever seen or heard. I had a feeling John would have fun playing this short role and you can tell he did in the final cut of the video. As the group likes to say, he was perfeck!"
On behalf of Perfeck Strangers, MeloTel would like to invite you to join John Meloche and many others at the official video release party for "Ghetto" which takes place in Toronto next week! It all goes down at Toby's Famous Eatery, located at 411 College Street, just one block east of Bathurst.
Admission into the event is absolutely FREE for everyone. Music will be played by the Stylus Award winning, DJ Law. There will also be special giveaways, drink specials, video screenings and live performances as well. (There is no word yet on whether or not John will get on the mic to perform "888-MELOTEL").
"Ghetto", which is the first official single and video release from the Perfeck Strangers duo is now available for sale on iTunes. To be featured on the group's debut album in the new year, the cut is also currently available on Urbnet's Underground Hip-Hop Volume 7 compilation which has also just been released for sale on iTunes as well.
See you at the video release party for John's on-screen debut!