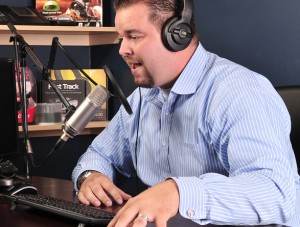 Earlier this week, MeloTel excitedly announced the release of company president, John Meloche's Uncle John's Holiday Hits Christmas album. The seven song compilation was literally recorded, mixed and mastered in one all-day studio session – a testament to John's talent and determination to compete projects to perfection.
It is this very attitude – exhibited by John – that enables MeloTel to be stand firm behind its commitments to its customers. Taking the lead from our president, MeloTel is a company that believes strongly in going all out to produce a top-notch product. One listen to Uncle John's Holiday Hits and you'll be able to hear that for yourself!
Considering that John has now added singing to his résumé, you may want to take this opportunity to use his talents for a voice ad for your company. What better time than now to include a holiday jingle in your advertisement for radio or television? Perhaps, you need a vocal introduction on your website or even an upgrade to your telephone greetings.
At MeloTel, our Voice Talent Production team is ready to put together the perfect holiday-themed (or not – that's up to you) voice advertisement that money can buy. Friendly, serious or hilarious, John's your man! However, in addition to John himself, MeloTel employs various voice talents that have many years of experience in the recording studio.
Daniel "Dan-e-o" Faraldo, for example, has been noted as the writer and producer of John's "888-MELOTEL" rap. Best known for his hip-hop catalogue, Daniel has also been cutting his chops as an actor over the past couple of years. With appearances in the A&E series, "Breakout Kings" and a starring role in the feature film, Anything Goes, Daniel is stacking up quite the entertainment résumé.
Also a co-host of a weekly online radio program known as "Tha O Show", Daniel literally uses his voice to make a living. If you're looking for high-energy, attitude and even a little bit of drama in your voice ad, Daniel just may be your ideal voice actor for the job.
Think of MeloTel as your multimedia one-stop shop. From straight voice over to sound effects-filled production to music, our talented team of artists are committed to providing you with a sound that will shoot your company to the next level. We have often heard that the catchiest jingles make the best commercials. Have us write you one today!
MeloTel is committed to delivering the best products possible. Give us a call today at 1-888-MELOTEL to discuss what voice ads would work best in promoting your company. And as John sang ever so nicely this week, you'll be able to "have yourself a merry little Christmas!"