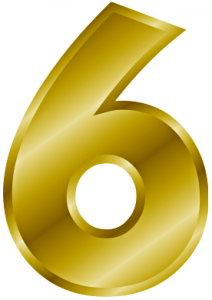 Considering that MeloTel President, John Meloche is now an accomplished music recording artist (check out the "888-MELOTEL" hip-hop theme below for proof!), we figured it was only right that his new track be featured on some radio station's "Top 6 at 6" countdown. Tell us what you think on our Facebook or Twitter pages.
As of this writing, we have unfortunately not yet caught word of any radio station picking up John's hot new single. Not to worry, MeloTel has a little "Top 6" of its own. It is a top priority, here at MeloTel, that we ensure the success of all of our clients. We believe that this is the best way to achieve success ourselves.
So, with that, we have developed a business philosophy that works to prolong the valued relationships we have with each of our clients. Their continuous satisfaction is our goal. So our "Top 6" is essentially a list of promises that we offer our customers. They may not be songs, but we're sure that each one is a hit!
Number 1: "Providing exceptional customer service through regular interactions with our customers and being accessible to phone calls." We know that there is nothing more annoying than contacting a company for support only to be greeted by never-ending voice prompts and eventually an uninterested and barely knowledgeable rep once your call is answered. We guarantee you will not experience this with MeloTel.
Number 2: "Listening to feedback and experiences from our customers; it's the only road towards continuous improvement." Since it's our job to satisfy your needs, we essentially make you the boss! Hearing out your concerns and addressing them directly is the only way to ensure that we are doing a good job in your eyes. We always welcome your feedback and look forward to building an ever-strengthening relationship with you.
Number 3: "Being on top of new technologies so that our product line evolves to meet our customers' changing demands." As we have demonstrated over the past couple of weeks, MeloTel is always looking for ways to improve upon our already-great line of products and services. As time continues, we will remain committed to updating our features to always ensure that you stay fully equipped to be a leader in your industry.
Number 4: "Having an expert team that is able to consult, teach, and support our customers whenever the need arises." At MeloTel, we make it a point to employ those who are as friendly as they are knowledgeable. We understand the importance of impeccable customer service and feel that nothing less is acceptable.
Number 5: "Protecting your information to prevent fraud and other malicious circumstance." Especially in today's internet era, your privacy is very important. With MeloTel, you can rest assured your information is stored safely and shared with no one.
And finally, coming in at number 6: "Doing the right thing." As our president, John Meloche said himself, "We are a customer as well as a distributor and we know what quality service is. We keep our customers connected and inform them about orders in a prompt manner. We are fair, cordial, and will go to lengths to satisfy a customer should an issue arise."