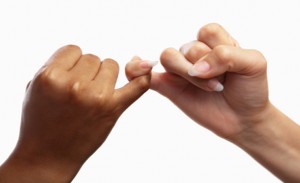 In our last blog, we unveiled yet another simple, yet sweet innovation that we feel will help to make our customers' lives easier. Our "Let us contact you" form on the home page of our website is our way of demonstrating our commitment to meeting our clients' needs in the quickest amount of time possible.
As we mentioned, communication is a two way street. This needs to be the case for any relationship to work. MeloTel is so dedicated to our side of the relationship, between our business and its clients, that we are willing to go out on a limb and make a promise. It's our business philosophy that our success depends on your success. So here's what we promise to do for all of our partners and customers…
Provide exceptional customer service through regular interactions with our customers and being accessible to phone calls. Like we said, communication is key. If we're not responding to you in a timely manner, we know that we could give off the impression that your concerns are not important. We're not like those big name companies. Our customers truly matter to us. If you need us, we are there.
Listening to feedback and experiences from our customers; it's the only road towards continuous improvement. How else can we know how to make your lives easier if we don't listen to what you need from us? We don't abide by the "it's our policy" way of thinking. We cater our services to specifically enhance the experiences of each individual customer. Bottom line: what you say matters.
Being on top of new technologies so that our product line evolves to meet our customers' changing demands. We love being ahead of the curve. This is why MeloTel implements as many ways as possible to utilize modern technology to our advantage. This includes everything from housing our data centre in a state-of-the-art top-notch facility to our newfound love for making apps for your iPhone!
Having an expert team that is able to consult, teach, and support our customers whenever the need arises. As you may have noticed, the MeloTel Team is comprised of a variety of multi-talented individuals. Last Friday, you got a chance to get acquainted with our programmer, Robert Doroftei. Stay tuned for more blogs about the various members of our expert team.
Protecting your information to prevent fraud and other malicious circumstance. A couple of weeks ago, our blog revealed that MeloTel is now housing its data centre at Toronto DC3. And as the Primus website describes, this new facility helps to make us a "champion". Our clients and their information couldn't possibly be more secure. It's all or nothing with MeloTel. We expect nothing but the best, so that is what we deliver.
Doing the right thing. It's never lost on us that we are customers too. We treat our clients the way we would like to be treated. We make sure that they are well connected and well informed. We go out of our way to be friendly and prompt while exhibiting our expertise and knowledge. Our promise to you is excellence – now and always.