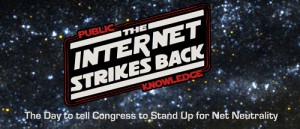 Last Wednesday, we blogged about an internet-phenomena that 162 million people checked out. It was on that day that the widely-used website, Wikipedia decided to black itself out to protest the Stop Online Piracy Act or SOPA. The act claims to be an anti-piracy legislation that United States Congress is attempting to pass.
As The Toronto Star's Internet Law Columnist, Michael Geist reported yesterday, Wikipedia was widely successful in having its online visitors support its protest. To highlight its reach, Geist revealed that last year's most-watched television program, the Super Bowl, garnered 111 million viewers.
By comparison, he insists, Wikipedia's protest was a "stunning success". Evidently, people are fighting against SOPA – a bill perceived to pose a serious threat to the open sharing of information on the internet. In fact, even blogs such as this one – that refer to other websites, blogs and current events information – would potentially be jeopardized if bills such as SOPA were to pass.
Geist remarks that the true success of Wikipedia's black out was measured by eight million of the site's visitors that looked up contact information for their elected representatives. As well, seven million online users signed a Google petition while "Engine Advocacy reported that it was completing 2,000 phone calls per second to local members of Congress."
He also reports that the impact of such online protests and petitions quickly made their way to Congress. ProPublica is a non-profit newsroom that produces investigative journalism in the public interest. Geist writes that according to ProPublica, before the protest, 80 members of Congress supported SOPA while 31 opposed it.
Two days after Wikipedia's blackout, only 63 supported SOPA while 122 opposed it. At this point, it appears as if the protest against SOPA is one of the most potent in internet history. The use of the internet – which is seen as an open space for free communication – is clearly something that people hold dear.
"It's practically trying to eliminate freedom of speech," said a friend of MeloTel's when hearing of this issue, "If you can't access information on the internet in this day and age, then what would be its purpose? It's cool to see people sticking up for their freedoms of speech. I can't see SOPA ever getting passed."
Geist agrees. "SOPA appears to be headed for the dustbin," he writes, "but successor U.S. legislation is sure to follow. A political consensus on anti-piracy legislation will eventually emerge, but the day the Internet fought back will remain the elephant in the room for years to come."