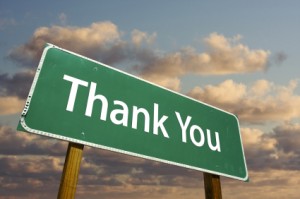 This week, MeloTel is in the mood for giving. But, then again, we're always in the mood for giving as it brings us such great excitement to give our awesome clients our unique combination of high-quality VoIP telephone services, equipment and unbeatable customer service.
However, this week, MeloTel is all about giving thanks to those very customers who make it such a pleasure for us to even be in business. In our last blog, we discussed a few ways that you can do the same for your customers. Remembering that they are the reason you have a business to run in the first place, it's never a bad time to show your appreciation.
And although Thanksgiving isn't here yet, we'd like to impart a few more of our thanks-giving ways by taking a look at a BusinessInfoGuide.com article that shares our sentiments. In it, Stephanie Chandler writes that there are a number of ways to show your customers that you value them all year round.
She reminds business owners, by the way, that you can never forget to keep your loyal customers happy. This practice has proven more fruitful than spending money on trying to secure a new crop of clients. With that said, it's important to thank those who have been supportive of your business since its inception.
We mentioned in our last blog that "thank you" notes and free gifts are great gestures. How about free food? Chandler writes that "everyone loves food. Consider sending cupcakes from your local bakery, providing a catered lunch at your client's office or dropping off a tray of cookies."
We've often spoke of providing your customers with rewards for referring your business to others. But have you even considered referring their businesses as well? At MeloTel, our clients are predominantly business owners too. So the more clients we get, the greater the opportunity for us all to pass along the good word about our respective companies.
Chandler notes that referring others to the businesses of your clients are unexpected gestures that will set you apart from other business owners. As long as you are not taking away business from yourself, your referral will be a way of thanking your client that he or she won't soon forget.
Finally, how about having a "Customer Appreciation Day"? Writes Chandler: "Designate one or more days each year to celebrate your clients. You could offer a customer-only secret promotional sale, give away lunch if you have a physical location or provide a special bonus to those on your mailing list."