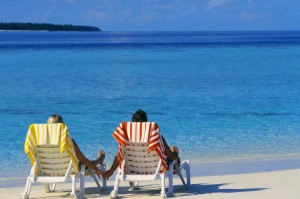 If there is one thing that we, here at MeloTel, love more than anything else, it's servicing our amazing clients. Well…that and lying on a beach! Let's be honest. It's hard to not to enjoy the rest and relaxation that comes with warmth, sunshine and the feel of sand between your toes.
Well, the summer is practically here! And you know what that means…vacation time! Of course, as a business owner, your mind is constantly on growing your business. As it should be. And here, at MeloTel, we're right there with you when it comes to constantly thinking about ways to grow the reach of your business.
This is why when you're on vacation, MeloTel will remain right there with you! And no, we're not asking you to take us on a trip with you. (We will, however, entertain any offers to sunny and warm destinations with beaches). What we mean is that no matter where in the world you decide to travel, you can be reached using your MeloTel account through any broadband Internet connection.
This is the benefit of getting your "head in the cloud" as we mentioned a few blogs back. Having the ability to have your phone connected through the Internet is a benefit that you can enjoy worldwide. It doesn't matter if you are checking in to a hotel or staying with friends and family, you will be able to make a receive calls just as you would in the office.
By simply using your Internet connection and connecting a telephone adaptor and headset into any computer, you'll be all set to communicate with your colleagues and clients as if you never left home. What makes this even more convenient is the fact that most phone adaptors and Internet telephones are compact enough for travel.
Remember the days when you'd come back into the office only to be met with a ton of little slips containing messages from calls you missed? Well, that's all a thing of the past. Allow MeloTel to keep you connected to your most important contacts no matter where in the world you may be.
We encourage you to give us a call to learn more about this service, especially since some Internet phones may need a "router" in order to use Internet connection. We'd love to teach you more about how you may download your own "softphone" for free in order to take advantage of this incredible service.
In addition, we offer prepaid calling through local access numbers that can be found all over the world. This way, you may make calls using a simple access number that isn't much different than using a regular phone card. So what are you waiting for? Give MeloTel a call, and let's go on vacation!