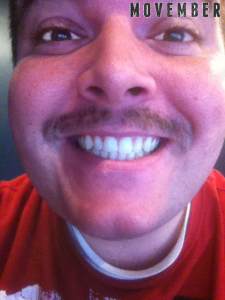 We are just about halfway through November – er…we mean "Movember" – so it's definitely time to pick up the pace! With this being the first time MeloTel President, John Meloche has taken on the title of "Mo Bro", it means a lot to our prez that he raises as much money as he can for this very worthy cause.
As a "Mo Bro", John is growing his moustache in an effort to raise more awareness about men's health. In addition to awareness, of course, John is also looking to generate donations that would help fund prostate cancer research and survivor support programs. You can donate to John's Movember campaign with just a few clicks. It's super easy! Go to his Movember Canada profile HERE!
As with most campaigns for donations, there is often concern about where and how the raised funds will be allocated. Thankfully, on the Movember Canada website, there is a clear description as to how John's donations will be appropriated. Of the money raised, an astonishing 88 per cent will be put directly towards the aforementioned world-class programs.
The remaining 12 per cent will handle the fundraising and administrative tasks that are necessary to run the organization and campaign the size of Movember. This percentage is, in fact, significantly lower than international standards which are generally between 15 and 25 per cent.
Last year, Movember Canada raised an amazing $22.3 million dollars that went directly towards Prostate Cancer Canada (PCC). Since its inception in 2004, the Movember campaign has grown exponentially each year. In fact, the Movember Canada website shows that participation nearly doubles on a yearly basis with over one million "Mo Bros & Sistas" getting involved to date.
Movember even attracts some of your favourite celebrities. In fact, hip-hop star, Snoop Dogg is currently selling a limited edition Movember t-shirt with partial proceeds going towards the cause. The t-shirt features a moustache-clad Snoop Dogg underneath a large "Movember" print with the phrase "Keep It Neat" at the bottom!
Every little bit helps. There is no donation too small or too big. So please feel free to donate whatever amount you can towards John's Movember campaign. Rest assured that your generous donation is going towards a worthy cause and will not be mishandled. We'd like to thank you in advance for your generous donation.