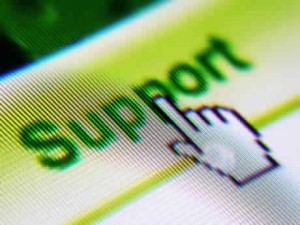 This week, the MeloTel Blog is tackling the theme of support. With today being the last day of November, it is the final day that you can show your support for MeloTel President, John Meloche and his bid to raise money through his Movember campaign. You can donate simply by visiting his Movember profile and clicking the "Donate To Me" button underneath John's picture.
Since MeloTel is in the business of working with business owners, we are only too aware of how important gaining support is to our clients. Of course, in any business you must give support in order to get support. It's much like respect, that way. This is why, MeloTel considers it a top priority to provide its clients with the ultimate in customer service levels.
Inc.com tells us that it should be your "first priority" to serve your customers. But doing so should come with the promise that you will be there for them in future whenever they may need your assistance. Your dependability will play a big role in how strongly customers feel about your brand.
So what are some of the ways you can support your clients? Inc.com offers a number of solutions. The first is to be accessible. This is why MeloTel goes to great lengths to let our clients know that we are always within reach. The contact page on our website, for example, provides numerous ways to get in touch including email, fax, phone and even our "live chat" feature.
In addition to being accessible, it's important to mind the customer's mood. We are well aware that not every customer who calls us may be in a great mood. After all, it is our mission to always put our clients in better moods than the ones they called us with. For example, if there is an issue with any piece of equipment or the service it provides, we make it a priority to remedy the situation expeditiously.
As well, bring expertise to the table, says Inc.com. The site explains that you should work to differentiate yourself from your competition by highlighting what it is you do best. MeloTel is only too excited to share our knowledge about our VoIP services, in addition to the number of other features we provide. We are always eager to address the needs of our clients and show to them that we are the best in the business!
With that being said, it is imperative that your staff is equipped. Says Inc.com: "Your customer-service team is your frontline in making sure customers are not just satisfied – but are genuinely happy to work with you." The site suggests that ideal candidates for members of your staff should have a minimum of three to five years experience in your field.
As well, you'll want to make sure you know your competition. How else can you better support your clients if you are unaware of what your competitors may be doing for them? We'll be sure to cover a few other key points on how to provide your client base with the best possible support available in our next blog.