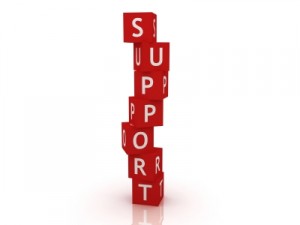 In our last couple of blogs, we have been discussing the concept of support and how important it is to communicate to your customer base that they can always depend on yours. MeloTel President, John Meloche knows this all too well as he participated in his first-ever Movember campaign last month. To all those who supported John by providing generous donations that will be put towards prostate cancer research, we sincerely thank you.
At MeloTel, we know how important getting support is to our clients. In our last blog, we took a look at an Inc.com article that listed a number of ways that business owners can show support to their clients. Communicating that you run a dependable business should be a top priority. So how can one do that?
One way is to be innovative! Inc.com suggests that once you are aware of what your competition is up to, you should come up with ways to better service your clients than they can. What are some ways that you can upstage your competition? Are you able to offer services that they cannot?
If you're not doing so already, you can offer your services through your website making it that much easier for your clients to work with you. "Don't fear the online tools," writes Inc.com. They reminds us that a company website is often the first point of contact between customer and company. Be sure to include links to your Facebook and Twitter pages to keep your clients in constant contact.
Once that's done, you'll need to nurture your relationships. Be sure to keep in touch with your clients, letting them know that you haven't forgotten them. The holidays provide the perfect time to reach out and provide well wishes. In fact, you may want to take the opportunity to provide your favourite customers with some quality promotional gifts!
Doing so will add value to your relationship. According to Inc.com, it's important to discover the immediate concerns of your customers. If you are able to address them, you'll keep them around for a long time. There's nothing worse than losing a customer because you were unable to understand what it was he or she needed from you.
With that being said, Inc.com reminds us that "when in doubt, ask what your customers want". This way, they will be able to assist you with coming up with solutions you may not have come up with on your own. Listen to your customers and help them to understand that in all circumstances, they have your support!