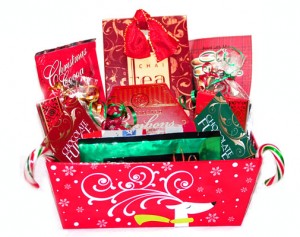 In our last blog, we discussed the concept of spreading Christmas cheer at your company. Of course, with Christmas almost here, this week represents the opportune time to let both your staff members and clients know that they are appreciated. Wishing them the best for the season may be done in many ways.
We took a look at a Vivid Image blog by Jackie Kaufenberg that agrees with our sentiments. Of course, MeloTel isn't the only company who likes to get involved with the spirit of the season. (Although we are still looking for another president of a non-music company to cut an album to celebrate the holidays!)
Among many other suggestions in her article, Kaufenberg writes that email programs such as Constant Contact are great ways to send out holiday greetings. Essentially enabling you to create an email newsletter, this program saves you both the cost of postage and the time of writing in several different cards.
How about creating a video? As we all know, YouTube has made it extremely easy for people to post videos about pretty much anything. Perhaps grabbing a video camera and filming quick "holiday wishes" from each member of your staff would make a heart-warming video that you may want to share on your website or YouTube page.
It has been often said that "it's the thought that counts". Hearing the many thoughts of the great people you work with and sharing them with the world will certainly help to strengthen your brand name, while spreading holiday cheer. In addition to discussing YouTube, Kaufenberg also points out that Facebook can be utilized to hone in on the holiday spirit.
She writes that "you can grow your fan base with a Christmas promotion on Facebook. For instance, you could run a Christmas sweepstakes, where a merchandise prize is awarded to the winner. Another promotion idea that pairs beautifully with 'giving' is to donate $1 to a worthy organization for every new 'Like' within a certain time period."
Finally, Kaufenberg also notes the importance of blogging. This, of course, is something we champion as well. Blogging about Christmas topics and simply utilizing your blog – as we have – to spread cheer is a great way to keep both your customers and employees engaged in the spirit of the season. And we're happy to use our blog to wish all of you a very Merry Christmas!