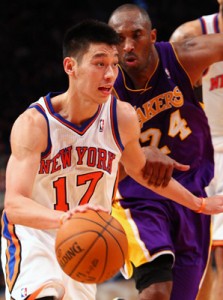 Have you heard of Jeremy Lin? If not, perhaps you're not a big sports fan. And to put it even more accurately, maybe you're not that heavily into social media. You see, these days, you don't need to be a sports fan to know about a sports athlete any more than you need to be a music fan to know about a famous musician.
We're all collectively mourning the passing of Whitney Houston whether we listened to her music or not. And why? Because through social networking websites such as Twitter and Facebook, the news about today's hottest stars – be it good or bad – can't be communicated fast enough.
Take, Jeremy Lin, for example. A 23 year-old point guard for the New York Knicks, Lin has become a recent sensation. His story is very inspiring. Having started his NBA career in 2010, Lin once toiled on the Golden State Warriors only to be put on waivers. He was later picked up by the Houston Rockets who inevitably showed him the door in much the same manner.
But with Lin having a recent opportunity for playing time rear its head with the Knicks – who claimed him off waivers in December –he has practically become an overnight superstar! Having scored 109 points in his last four games, Lin has caught fire throughout the world – especially thanks to social media.
As The Toronto Star's Madhavi Acharya-Tom Yew pointed out in an article last night, traditional marketing and merchandising cannot keep up with Lin's meteoric rise. She notes that Lin's Twitter account has accumulated over 220,000 new followers in the past three months, while nearly a half million people "like" his Facebook page.
Meanwhile, the NBA itself has not been able to meet the demand of the many brand new fans who now wish to idolize Lin. The unlikely superstar's t-shirts are in high demand and have been sold out in the official online store of the New York Knicks. Evidently, no one expected his star to rise this high, this quickly.
Social media, it seems, has been Lin's best avenue of connecting with his new fans. He apparently was very aware that this would be the case well in advance of his newfound stardom. Kashmir Hill is a staff writer for Forbes. Hill commented on Lin's ability to use social media to his advantage.
Said Hill: "What I've been impressed by — from the technology perspective — is how prepared Lin was for this onslaught of attention. Lin began strutting his stuff on social media long before doing it for the Knicks." Evidence of Lin's far-reaching popularity was found last night at the Air Canada Centre in Toronto.
Lin and the Knicks were in Toronto to take on the Raptors, where it was pretty obvious that "Linsanity" was catching on. If you haven't yet figured out what social media may be able to do for you, look no further than the NBA's newest and brightest star. Jeremy Lin is a star on both the court – and online!