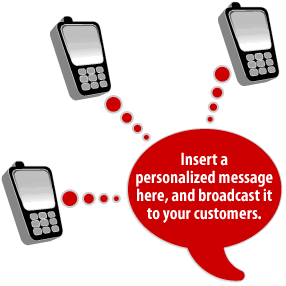 Twitter is popular. How's that for the understatement of the year? Each and every day, millions and millions of people worldwide send out messages that are less than 140 characters long. These messages are sent with the click of a button and can be read by millions and millions of other people within seconds. Twitter has truly revolutionized how people communicate.
"It's pretty much a mass text that takes seconds to create," one of our clients commented this week, "You can post links to your site, you can post pictures, you name it. The only thing about it is that you can't necessarily control who you send the messages out to. Because anyone can follow you. Sure, you can block people, but then that becomes a nuisance."
So how does one get around such a nuisance? Sure, Twitter is on to something, but wouldn't it be nice to specify exactly who could and who couldn't read your messages? That way, you could direct your messages to a specific audience that would best benefit your cause. As a business owner, such an invention would be incredibly beneficial. Imagine being able to send out short text messages to one specific group in an instant?
Well you can! MeloTel is excited to offer its clients Short Message Services. Also known as SMS, this incredible service allows brands and businesses of all sizes to send specific messages to their entire client base in a personal and non-intrusive manner. Time sensitive alerts can be delivered to all of your mobile subscribers instantly. The service will help drive more traffic to your website.
Perhaps more importantly, SMS will help to drive more traffic to the physical location of your business. Your message, of course, can be about anything you like. Send out calls to action with the click of a button. This will bring about higher sales and conversion rates. You can deliver the same message to 100,000 people with a single click. You can also segment your contact into specific groups.
There is no limit to the number of groups you can create as well. Unlike Twitter, your Small Message Services will allow you to specifically pick who does and who does not read your message. It's not a public forum. SMS is a tool to communicate with all of your selected clients with absolute ease. You can do everything from send mobile coupons to schedule reminders about upcoming sales.
You can use SMS to market new products and promote new services. And, by the way, your customers have the ability to text you back! When they do, you will see the response in your email. Again, the communication you have with your customers is between you and them – not the rest of the world. So again, unlike Twitter, SMS allows you to make personal and private connections with your clients.
According to research, when you send a message to all of your subscribers with a compelling call to action, you can expect 17 per cent of those subscribers to take advantage of the offer. Print ads, on the other hand, have been known to convert only 1 per cent of those who see them. Take advantage of SMS today. Simply give us a call at 1-888-MELOTEL to get set up!