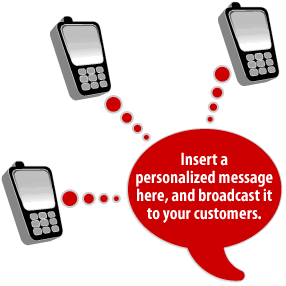 Twitter is huge! Tell you something you don't know, right? Who knew that a social media platform that only allows users to send messages using no more than 140 characters would become such a worldwide phenomenon? Imagine what you could do with more than a 140 characters. Well, MeloTel sure has! We offer an incredible feature that's like the Twitter of tomorrow – sort of.
Have you heard of SMS? Short form for "Short Message Services", this feature is like a company-specific Twitter account that does a lot more than simply allow you to express your thoughts to random strangers. SMS is a specialized service that allows you to send sensitive alerts to your mobile subscribers instantly. It works to drive more traffic to your business and increase your conversion rates.
Think of it like a text message that can reach upwards of 100,000 people. Now, depending on your type of business and the type of customer you're sending your message to, SMS can really help you to increase business. What makes it better than Twitter is that it allows you to communicate with specific customers of your choosing in a personal and non-intrusive manner.
SMS allows you to communicate special offers, discounts and news about events to chosen customers who can be made to feel that they are part of an elite group. As mentioned, you can send thousands of customers your message with the simple click of a button using this awesome feature. You can send mobile coupons, schedule reminders and even market your new products.
Making it even more awesome is the fact that customers have the ability to text you back after receiving your message. You will get this response in your email. Your best bet, as with any mode of advertising, is to make a call-to-action. Ask your customers to act within a certain time and test the power of SMS for yourself. We've even come up with unique ways to use this feature for different industries!
If you are in retail, you can use SMS to send out coupons and advertise your new products. Let your subscribed customers know that they are the first to hear about your sales events. Give them the scoop on the hottest deals and give them first-of-the-line access to products that are limited in quantity. The key to SMS is making your customers feel special.
If you own a restaurant or bar, you can use SMS to offer your customers special discounts if they make mention of your message when arriving at your establishment. You can fill them in on your happy hours or invite them to special events that are open only to your most highly appreciated clientele. Again, using this feature to provide added incentive for your favourite clients to spend with you is important.
As you can imagine, the possibilities are endless. The Short Message Services feature is just another way that MeloTel enjoys making the lives of its customers easier, while making their businesses that much better. You'll be happy to know about the incredibly affordable cost for SMS as well. Give us a call at 1-888-MELOTEL to learn more about this feature and begin using it today!