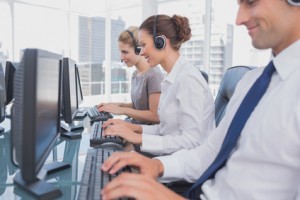 Keeping in constant contact with customers is a must for most business owners. And for some, making the first point of contact via the telephone is a key component to what makes their businesses successful. In many cases, Canadian business owners employ the use of call centres, hiring talented phone staff to make those first points of contact with prospective clients across the country.
For some companies, their phone reps are required to dial various phone numbers throughout the day manually. It may not sound like a big deal, but dialing time when added up over the course of days and weeks can be astronomical. What does this mean to your business? Wasted time manually dialing means wasted opportunities to make more contacts that convert into actual sales.
MeloTel suggests that you allow DaFeeder to do the dialing for you! Introducing the DaFeeder Preview Dialer – the latest feature in MeloTel's long list of services. This exceptional new service is a web-based telemarketing software that allows even the most basic computers to manage campaign dialing and dispositions. It works wonders in helping small to medium-sized businesses to make greater contact with customers.
If you have a telemarketing department at your business, DaFeeder is definitely for you. This computer-controlled program takes away the need for your associates to dial a single digit all day long. DaFeeder uploads leads on the computer screens used by your reps. The lead includes company information such as phone number, address and business owner name in addition to other specifics.
With the simple click of a button, your phone representative can dial up the prospective customer while the system allows for notes to be made and future calls to be automatically set up. An all-in-one software, DaFeeder gives your team the ability to acquire information about clients, log specifics about calls and monitor customer interactions in one online filing system.
It's easy and very convenient to use and will help you to avoid huge piles of hard-to-file paper. DaFeeder will greatly enhance the effectiveness of your call centre. It will drive sales, improve customer satisfaction and provide greater insight into the performance of each and every one of your sales representatives. It's an all-inclusive call maker and statistics keeper that will make running your business that much easier.
As always, MeloTel is happy to offer this service through a variety of tiers so that business owners may select the package that best suits the needs of their respective companies. There are three tiers, in fact: Silver, Gold and Platinum, and they start at only $15.00 a month! DaFeeder is very easily one of the most sound investments your company can make.
After using DaFeeder, we're confident that you'll see dialing up your leads in a whole new light. You can load your own leads, manage sales scripts and do so much more. Do away with traditional paper scripts and lead lists. DaFeeder is bound to increase the productivity of your call centre. For more information or to place your order, please feel free to give us a call at 1-888-MELOTEL.