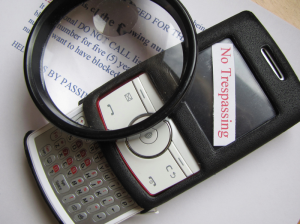 It's "Stop The Scammers Week" here, at MeloTel! And as you can likely tell from our last blog, we're pretty serious about the upholding of integrity in the business world. We do all we can, at MeloTel, to operate in the most forthright and honest possible way with each and every one of our customers. So we expect nothing less from other companies, when we operate as their consumers.
In our last blog, we detailed a recent call that was received from a company calling itself "Global Asset Service". Since the company was calling a number on the National Do Not Call List, they already set off alarm bells even before trying to pry for our president, John Meloche's personal credit card information.
Good thing that John is an expert in the field of telecommunications. After some careful probing, he immediately filed a complaint with the CRTC. But you don't have to be an expert to know your rights. If you do not wish to receive calls from telemarketers at your personal phone line, you don't have to. You too, can get on the National Do Not Call List.
There are a number of rules that telemarketing firms must follow with respect to numbers on this list. The first is the most obvious. Simply put, if you have been on the list for more than 31 days, telemarketers may not call you unless you have given them prior express consent to be called.
The list, also known as the National DNCL, cannot be sold, rented, leased, published or disclosed to any person outside of the telemarketing company except for those who provide services that enable the telemarketers to comply with the list. The bottom line is once you are on the list, your number is not to be called or shared.
For those of you who are not on the National DNCL, it is still important to know your rights. On their website, the CRTC does list a number of Telemarketing Rules, as well. Knowing these rules will help you to determine if you are within your rights to make a complaint. For example, telemarketers may only make calls between specific hours – between 9am and 9:30pm on weekdays and between 10am and 6pm on weekends.
As well, the telemarketing call must display either the originating calling number or an alternate number where the call originator can be reached. The only exception is when the number display is unavailable due to a technical problem. There are also rules that must be applied to numbers that are given out to consumers to call back.
We will detail those in our next blog. Needless to say, we believe strongly, here at MeloTel, that people do not deserve to be scammed. If we can do anything at all to prevent scam artists from succeeding, we will. Here's hoping our "Stop The Scammers Week" blogs will help to do just that!