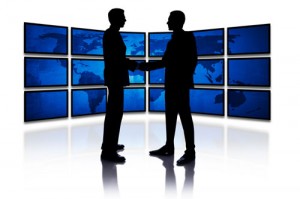 Originally, we here at MeloTel, aspired to be Canada's leading VoIP telephone company. In hindsight, that may have been a good start, but at this point, we realize that we have grown to be so much more! That is why our sweet new website gladly declares that "MeloTel is Canada's Hosted Company".
What does that mean exactly? Well, more than just a telephone provider, MeloTel specializes in providing your company with Internet Access, Emails & Domains, Logo Design, Voiceover Production, Promotional Products and Bloggers For Hire. Whew! We've been keeping pretty busy over here, doing all we can to make sure that we go all out to make our customers happy.
And we have to admit, we're pretty happy to do so. So happy, in fact, that we'd like to cut you in on the deal. That's right! MeloTel has two Partner Programs that can help you generate some more income for your company, while helping our company to grow. We'd like to take this time to remind you of how they work.
It's actually quite simple. Just think of it as a referral or recommendation…that you get paid for! Our "Affiliate Partner Program" will help you to turn a quick profit simply by referring your customers to our excellent hosted VoIP services. Firstly, signing up for our program will get you a $50 sign up bonus!
Secondly, once you are part of this program, each time one of your referrals makes a payment on an invoice, we will add 10 per cent of that amount to your account! This is not a one time deal either. As long as you are a partner, we will continue to add to your account until you have reached your payout limit of $75. At this point, you'd be able to request a withdrawal to your bank account!
Our "Reseller Partner Program" enables you to add VoIP services to your company's product portfolio. What that means is that you will essentially be offering VoIP to your customers without having to invest in any hardware or specialized system management. You will, in fact, be completely backed up by MeloTel.
Essentially, you will be selling our services under your own brand name. This helps you to develop an even stronger competitive edge in your industry, increasing your customer base and generating more money for your company. The bottom line is that you will be keeping ownership of your customers, providing them with more services so that they need not go elsewhere.
Give us a call today to find out more about how you can join either of our Partner Programs!