Please use the audio player below to listen to this webpage. This is intended for the visual impared.
Last month, we announced our second of two Facebook-based contests and invited everyone – MeloTel client or not – to participate. The "Funniest Caption Contest" was a super easy one to enter as all it required was that you LIKE the MeloTel Facebook Page and simply offer up a funny caption to the picture shown in the official contest post!
The photo is of a young Mark Meloche sitting in his dad John's office chair.
Taken when Mark was still an infant, it's a cute enough photo on its own, but we thought we'd invite people to have some fun coming up with various captions that would make us laugh the loudest. As you're very likely aware, John is incredibly proud of his family and only too happy to include them in on the fun.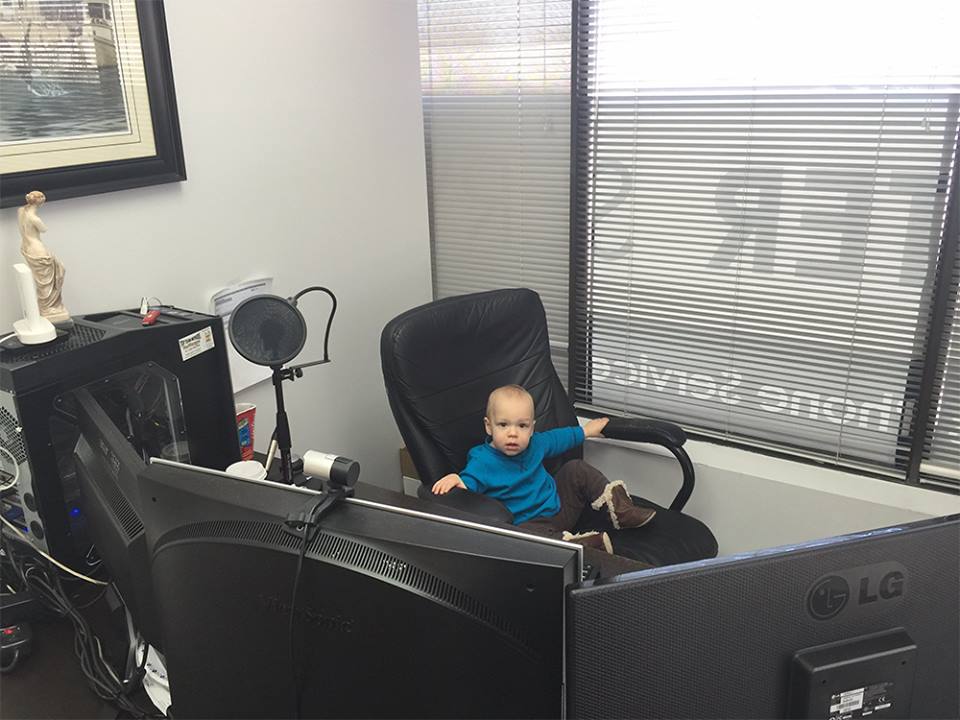 Earlier this week, John returned from a near month-long vacation with his wife, Kathryn and their two sons, Mark and Lukas. We'd like to take this opportunity to remind you that today was the last day to enter the "Funniest Caption Contest". John and the entire MeloTel team are currently sifting through the many awesome entries we've received in order to select a winner.
You could win $100!
To further remind you, the winner of this contest will receive a $100 cash prize via email money transfer. As mentioned earlier, the "Funniest Caption Contest" is our second Facebook-based contest, following our "Cutest Pet Contest". The contest that requested cute pictures of pet owners and their pets generated hundreds of entries and worked wonders for strengthening MeloTel's social media presence.
We've learned through experience that, in many cases, online contests that have nothing specific to do with a company's products and services, can generate quite a lot of excitement. This isn't to say that our cloud-hosted services aren't incredibly popular with small business owners all across North America. It is, however, to say that it's hard for most people to resist pictures of cute pets and cute kids!
Just as Lisa Barone explains on OutspokenMedia.com, when it comes to contests hosted by your company, you want to think long term and not limit yourself. She even goes so far as to suggest contest ideas that may appear to work against your branding message.
"Associate your brand with something fun, engaging and creative."
"Just because you sell wedding dresses, doesn't mean you can't create a contest asking people to send you their most compelling reasons NOT to get married or the most outrageous 'why I called off the wedding' story they've heard or a video of someone destroying their couture wedding dress," she writes, "The idea is to associate your brand with something fun, engaging and creative. It's not to see how well you can fit inside your box."
Stay tuned for the announcement of the winner of MeloTel's "Funniest Caption Contest"! We expect to announce the winner at some point today! If you have any questions, please don't hesitate to contact us at 1-888-MELOTEL or use the Live Chat feature on our website!