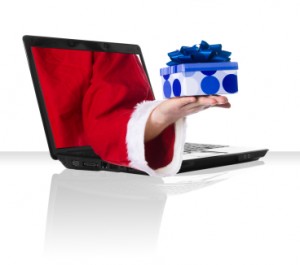 As we proudly blogged on Monday, online shopping is becoming more popular than ever. MeloTel President, John Meloche's article in last week's edition of The National Post was, in fact, just one of many that champion the concept of doing your shopping while still in your pajamas. Although we know it's your favourite!
This concept, of course, is not exclusive to North American shoppers either. This was made clear just a couple of weeks ago in an article published on MoneyHighstreet.com by Julian Stone. In his article, he reveals that a recent British study found that nearly 39 million people will be heading towards the internet to do their Christmas shopping this year.
Of those people, more than 10 million plan on doing the "vast majority" of their holiday shopping online. The recent study, conducted by PayPal UK strengthens John's assertion that choosing the computer over the shopping mall is the way to go, especially when the malls are so crowded at this time of year.
Rob Skinner is the Consumer Affairs Manager at PayPal. Said Skinner: "Christmas is always a busy time of year and online shopping is the perfect way to avoid the crowds and grab a bargain. This year will see a mobile Christmas, with many getting a smartphone as a present, and others doing at least some of their Christmas shopping on their mobile."
Like John did in his article, Stone points out a number of factors that people consider when shopping online. The most obvious one, perhaps, is to save money and find bargains. Many retailers encourage their customers to purchase from their websites by offering special discounts. This may be the best reason to check a store out online before visiting one in person.
As "Free Delivery Day" exposed this past Monday, many retailers offer free shipping costs when you buy online. Don't assume that because "Free Delivery Day" has passed, however, that this is no longer an option. Be sure to research the website you are visiting to see what special offers may be available as it relates to shipping and handling fees.
As well, speed and convenience are major factors in why so many people are taking to the internet rather than shopping centres. As John pointed out in his article, the world wide web provides consumers the ability to travel from one store to the next within seconds. Online shopping really helps to save time, as well as money.
In our final blog this week, we will take a look at a few of PayPal's tips for safe online Christmas shopping. And if you haven't yet read John's tips from his article in The National Post, be sure to take a look back at our last blog! We're sure that it will help your holiday shopping this year become a much easier experience than you may be used to.