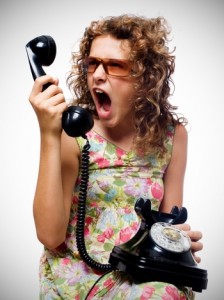 Apparently, it's no surprise to many of our friends, family members and clients that "big name" telephone companies aren't always the easiest businesses to deal with. After our last couple of blogs, the emails, Facebook messages and phone calls have been rolling in with accounts of what it's like to deal with these popular phone providers.
"I was so upset," our friend Denise detailed, "I had changed my cell phone plan over a month ago and when I received my bill today, I saw that they were still charging me based on my old plan! They tacked on an extra $148 in what they refer to as 'airtime' minutes. Of course, I had to get on the phone right away."
"When I finally got a rep on the phone," she continued, "She informed me that all of those extra charges were for 'usage before I switched my plan'. Having written down the date that I made the change to my account, I knew that she was completely incorrect. 'Absolutely not!' I responded."
Denise then went on to explain that at the time she has switched her cell phone plan, the rep she spoke to assured her that the changes would take effect immediately. Therefore, no charges for airtime minutes or anything else relevant to the previous plan should have been charged from that date forward.
"I was placed on an abrupt hold," Denise explained, "I was actually in mid-sentence when she decided that that would be a good time to have me wait for her to look into resolving my problem. When she came back on the line, she explained that she had adjusted my bill by removing the extra $148 in charges."
There was no explanation given as to why the rep decided to remove the charges, Denise informed us. However, she received it as an admission of guilt or wrongdoing. Although our friend was pleased that her bill was lowered, she was severely dissatisfied with the way the call was handled. It appeared obvious to her that she was almost "swindled", as she put it.
This is only one of many stories that we've received in recent weeks. At MeloTel, we are more than well aware that customers demand premium products in addition to top-notch customer service. A customer should never feel as if he or she is being "swindled" or taken advantage of. If a problem arises, a resolution should be met quickly – but with respect.
"You think I even received an apology?," asked Denise. Like her, many of MeloTel's new customers have made the switch to our Residential Telephone Services so that they can pay much less for their home phone bills, as well as get the type of service that all customers deserve. Respect. Gratitude. Appreciation. That's the MeloTel way.