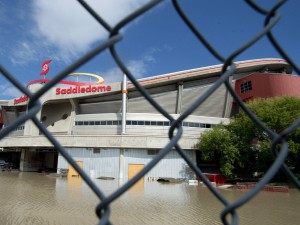 On behalf of the entire MeloTel family, we would like to extend our deepest and most heartfelt sympathies to the people of Alberta. As is widely known, Calgary, Alberta and its surrounding areas have been experiencing immense flooding over the past week. Tens of thousands of Calgary residents have been evacuated from their homes as the city is practically under water.
Images of Calgary have been popping up all over the internet. They are quite unbelievable to look at. Streets have turned into rivers. The famed Saddledome, where the city's beloved NHL team, the Calgary Flames play, is home to an enormous reservoir that reaches the tenth row of the stands. It's truly remarkable to see what type of damage has been done to the city.
The Stampede grounds have also been submerged. It's an unbelievable sight. The Calgary Stampede, as most are fully aware, is a staple within the city. City officials have commented that they don't plan on cancelling this year's Stampede. But, at present, it's hard to imagine the event taking place. The area has essentially become a lake. The images are shocking, to say the least.
The Calgary Stampede was scheduled to commence two weeks from now. Even if the water is drained in time, there is likely to be extensive damage to the grounds and the structures that surround it. Water damage is incredibly hard to repair. There is the possibility that many properties may have to be demolished following the damage caused by this flood.
MeloTel would like to extend our best wishes to all of those affected by this incredibly unfortunate circumstance. Our thoughts are first with the health and safety of everyone in the flooded areas. Secondly we'd like to inform our clients in Calgary's 403 area code that due to the floods, we are experiencing interference with our phone services. This has been the case all throughout this past weekend.
Although we had been informed by Telus that attempts to resume service by this morning were being made, we are still unable to restore them as of this evening. Naturally, we will do our best to keep you informed of any news about our network outage in the 403 area. Please keep posted to our Facebook page or Twitter profile for the latest updates. And, of course, feel free to all 1-888-MELOTEL with any questions or concerns.
Sadly, the water levels in Calgary are still too high to get to the site where our services can be tended to. The city of Calgary is still running on generators, for the most part. That is, if any power can be received at all. We certainly thank everyone who is affected by the flooding for their patience and understanding. We definitely hope to have our services up and running again as soon as possible.
Back in Toronto, we can't imagine what it must be like to have so much damage done to homes and other property due to flooding. We hope that our friends in Calgary are staying safe. At times like these, we truly wish there was more that we could do than provide telecom services to our great clients. Nevertheless, MeloTel's heart is with Calgary.