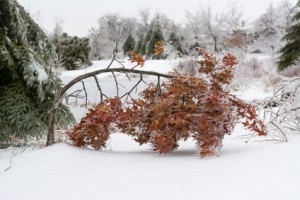 Before we broke for the holidays, MeloTel made sure to let it clients know that it was still available for emergencies on a 24/7 basis. All our customers had to do was call 1-888-MELOTEL, just in case there was a pressing issue that we could address. Now, to be honest, it's very rare for such emergencies to arise. So it's very rare to receive an emergency call during the holiday season.
As residents of our hometown of Toronto can attest to, this past holiday season was one like no other. Were you affected by the incredible ice storm that ended 2013? And by "incredible", we certainly don't mean that it was a good thing. There were actually people across the Greater Toronto Area without power for over a week! This certainly changed the way that many families were able to celebrate Christmas.
And while so many Toronto residents faced such difficult times during the power outage caused by the ice storm, the event help to provide quite the proving ground for the technology offered by MeloTel. As we mentioned on the MeloTel Facebook Page on Christmas Day, many business owners discovered just how vulnerable and fragile technology had become during the ice storm.
MeloTel customers who were affected by power outages and internet interruptions, however, were still able to enjoy our "Backup Plan". This plan ensures that whenever a power or internet interruption occurs, MeloTel servers are able to recognize this. They then instantly re-route phone calls to alternate destinations. What this does for our customers is guarantees that they never miss a call.
We know that no matter what day of the year it is, our clients need to be able to communicate with their colleagues, friends and family members too. Toronto's end-of-year ice storm helped to prove that MeloTel's "Backup Plan" comes in very handily for business owners who need to stay in touch. This past holiday season demonstrated just how tough it can be when services are interrupted.
We'd like to take this opportunity to thank all of MeloTel's clients for putting their trust in us. Although we're sorry to know how many fellow Torontonians were without power during much of the holiday break, we're happy to know that we were able to come through for our great customers when they needed us the most. And we'd love to be there for you in the event of future interruptions.
How badly affected by the ice storm were you? We'd actually like to discuss with you how MeloTel may be able to assist you if you've not yet taken advantage of our "Backup Plan". Considering how much damage – both physically and financially – was done to certain businesses last month, you don't want to be caught in such a situation without such a plan.
Call us today at 1-888-MELOTEL. Not only would be like to discuss this plan, but we'd be happy to inform you about the many services that our company provides. From building your new website to setting up your call centre, MeloTel works to take your company to the next level. And we do it with a smile! Nothing makes us happier than having happy customers.