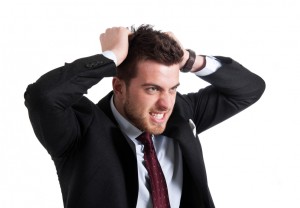 Let's be honest. Most consumers tend to trust big businesses simply because of how big they appear. When you see television commercials for a specific brand repeated several times throughout a broadcast, you're most likely to believe that it is reputable. Or, at the very least, you'll believe that the brand has a lot of money and therefore, is very successful.
But does that mean that they are a good business to work with? Most of our clients would tell you that the bigger the business, the bigger the problem. At least, in the telecom industry, that seems to be the case. Many of our clients come to MeloTel with horror stories about the providers that they just left. We felt it would be interesting to share some of those stories with you today.
Bad Customer Service. "They were rude. Period," insisted one new client, "Every time I called, they would give me the runaround. And every time I would get upset, they would coldly tell me that they understood my frustration, but it didn't seem like it. Each person I spoke to would have a different answer for the same question. It was very frustrating, I couldn't take it anymore.
At MeloTel, we understand this frustration. Not only do we ensure that our phone representatives are very knowledgeable, but we insist on them being polite and friendly as well. As our President, John Meloche often says, "smiles are contagious", so it's important to pass along this "good cold". We know our customers appreciate a kind approach to getting the correct answers to their questions.
Too Expensive. "My bill was just too high," reported another new client, "Each month, I'd see charges that I didn't recognize. Sometimes, they'd take them off, sometimes they'd explain it in a way that made it too hard for me to even want to bother to argue with them anymore. I finally had enough. The way I see it, bills should be a lot simpler to read."
At MeloTel, we understand this frustration. We offer business owners the opportunities to send us their most recent bills from their current providers. For free and with no obligation, we'll take a look at those bills and show them just how much money they could be saving if they made the switch to MeloTel. Many business owners have, and are much happier dealing with our smaller company, as a result.
No Guarantees. "I feel that (my previous provider) should stand behind their products and services," said another of our clients, "They always claim that they're the best but their equipment doesn't always work as it should. I hate the idea of having to pay for something that should have been included in the package. I also hate having no way out of a contract without having to pay. It's like a trap."
At MeloTel, we understand this frustration. Firstly, we provide our customers with a Quality of Service Guarantee. That means that within the first 30 days of a customer signing up for a service, if he or she is unhappy and wishes to cancel, a full refund will be given. As well, we offer our clients an All Inclusive 5 Free Phone Package when signing up for our telephone services.
You can read more about it in our last blog. Or simply call us up at 1-888-MELOTEL!