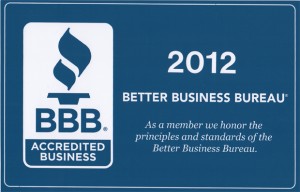 Well, the end of June is here. So you know what that means. School is out and it's final report card time! And this year, MeloTel has received three B's and an A. Well, not really. We've actually received an A from BBB! Also known as the Better Business Bureau, BBB's appraisal of MeloTel is further proof that we are committed to being honest and forthright in all of our business relationships.
But what does scoring an A from the Better Business Bureau really mean? Well, firstly it means that MeloTel is an Accredited (that's what the A stands for) business with the BBB. It represents the fact that we are recognized as an ethical company that can be trusted. As you may already know, we set our standards very high, here at MeloTel, so we're quite proud to be acknowledged in this way.
Being a trusted company is of great importance to us. And it is certainly important to the Better Business Bureau. On their website, they display a list that defines their mission statement. It includes, creating a community of trustworthy businesses, setting standards for marketplace trust, encouraging and supporting best practices, celebrating marketplace role models and denouncing substandard marketplace behavior.
As we've mentioned, gaining the trust of our clients is integral to our business. We keep mindful that, we too, are customers. So we strive to provide a customer experience that we ourselves would truly appreciate. In fact, we look to go over and above the call of duty to make our clients happy. We know that strong performance is how trust is most often earned.
But that's not all. BBB insists that trust is made of two primary factors, with performance being one of them. Integrity is the other. Defined by the Better Business Bureau, integrity "includes respect, ethics and intent." Our customers are treated with the utmost respect. We know that their time and money is precious. So saving them time and money is part of our own mission statement.
MeloTel is honoured to receive BBB Accreditation. We know that not every company is eligible. A high standard must be met, so we know that our hard work has paid off, now that we've received this distinction. It inspires us to never rest on our laurels, but instead to strive even harder to reach higher levels of customer satisfaction and trust moving forward.
We are committed to meeting and exceeding the values outlined by the Better Business Bureau. They include excellence, integrity, teamwork, trust and respect. And we would love for you to experience that first hand. We encourage you to give us a call at 1-888-MELOTEL. We'll do what it takes to continue earning that A on your report card as well!