At MeloTel, we consider customer satisfaction a top priority. As a result, we are constantly coming up with new ways to ensure that we are meeting the needs of each and every one of our clients. Part of the entire process of meeting customer needs is creating a working schedule that enables customers the greatest access to our support staff possible. Over the past several years, we have studied the calling patterns of our clients. So we've now adjusted our schedule to suit them.
With that said, we'd like to first communicate MeloTel's hours of operation for the upcoming holiday season. For all intents and purposes, MeloTel's business hours will remain the same right up until December 22nd. Our regular weekday schedule of 8:30am to 7:00pm EST will remain intact through to the 22nd and then we will close for the holidays on the 23rd. We will be back open for business on Monday, December 28th.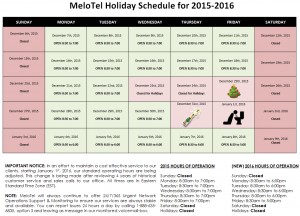 Regular hours of operation will remain until the 30th, when we close again to celebrate the new year. MeloTel opens back up on Monday, January 4th, 2016. We've included our holiday hours of operation in a new MeloTel Holiday Schedule. Feel free to have a closer look at it by clicking on the photo to the left. You can see that we had a little fun with it. You'll also notice that the schedule includes slightly revised hours once 2016 begins.
As mentioned earlier, we have been studying the patterns of our customer calls for the past four years. As a result, we've come up with a schedule that will continue to meet our clients' needs and also allow for us to provide better service that is cost-effective for our customers. Beginning January 1st, 2016, our standard operating hours will be slightly adjusted. Our office will be open between the hours of 8:30am and 6:00pm EST each weekday except Friday when we will close at 5:00pm.
As usual, our office will be closed on weekends and holidays. But, as always, we will have our phone lines open for emergency situations. This will be the same case during the upcoming holidays. We know that certain things may arise that you may require our assistance for. So, we encourage our clients to get in touch with us at any time. We promise to respond to customer queries as soon as it is humanly possible.
Remember that we can be reached by our toll-free number 1-888-MELOTEL. However, we can also be contacted, during business hours, via our "Live Chat Support" feature. It's right there at the bottom left corner of our website. It's the orange rectangle that reads "Online – Have questions?" By clicking on it, you'll be able to immediately type your question into a box and have a live representative answer you.
During off hours, the "Live Chat Support" box is still available, however, you will be asked to leave a message that we will return at our earliest availability. MeloTel remains dedicated to being accessible and providing our customers with lightning-quick responses to their important questions. We know that time is of the essence and plan to continue our tradition of providing expeditious service to keep our customers happy.