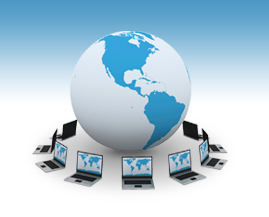 In our last blog, MeloTel affirmed that we are all about taking our clients into the future. The crazy thing is that the future is already here (so to speak), so taking you there is easy! What we mean is that in today's business world, having a good handle on certain technologies is of extreme importance. This is why we are dedicated to making sure that your company is well represented on the internet with a fantastic website.
We also mentioned what we consider our specialty. And that is our VoIP telephone services. Often referred to as our "Hosted Voice" or "Over The Cloud" phone system, our Business Phone Services utilize the internet to get you communicating clearly and effectively with your clients. Not only will your futuristic phone services improve your ability to stay in contact, but they will save you money as well.
In fact, there is a long list of benefits to switching to MeloTel's cloud-hosted phone services. As far as we are concerned, it's important to be on top of all of the new and emerging technologies. That makes your job easier. You don't need to be experts about all of the new and fascinating trends. We'll take care of that for you. And here's what's in it for you.
No Commitments. One of the things that our clients love most about our phone services plan is that it does not tie them down to any lengthy contracts. There are no commitments for any specific terms necessary. We are so confident that our plan will work for you, that we offer month to month payment options with the ability to cancel at any time you may wish.
Crazy Calling Features. Not crazy in the literal sense, our calling features are abundant! With each extension in your office, you will have the same type of access as you would your main phone line. This includes call forwarding and the translation of your voice mails to your email inbox. The ability to transfer calls and even getting hold music are among the many other options.
VoIP Equipment. MeloTel doesn't just provide you with your new cloud-hosted phone lines, but we provide you with the phones as well. One stop in our MeloTel Shop will be all you need to get your office fully equipped with the appropriate devices. In addition to phones, headsets, power supplies and other important pieces of equipment are all available.
Customer Service. Our primary objective it to get your business set up with the latest and greatest technologies available in the world. But no product is worth getting without the ultimate customer service experience to go along with it. At MeloTel, we greatly pride ourselves in making sure our clients have an easy, pain-free transition from their traditional phone systems to our VoIP phone systems.
We make it our job to gently take you through each step of the process. And we promise you, it's not as hard as you may think. Putting your trust in MeloTel means taking your company to the next level. Give us a call at 1-888-MELOTEL and give us the opportunity to bring a world of new opportunities to your company!