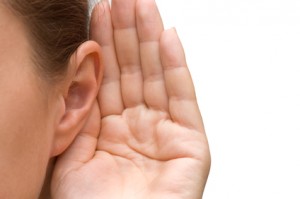 At MeloTel, we do a whole lot of listening. And it's because we listen that we've been able to be so successful at meeting our customers' needs. Listening is an integral part of what makes a relationship strong. As we made mention of in our last blog, communication is so very important to all types of relationships. After all, if you're not listening, how can you truly be communicating?
"I don't think they heard a word I said," commented one of our newest clients recently. Speaking about his previous telecom provider, our new client informed us about what lead to his switch to MeloTel. "With each question I asked, they had an answer to something I didn't care about. I just wanted them to solve the first problem I called about. Not give me more."
One of the things we hear most from our clients is how important it is for them to get the assistance that they need quickly. Waiting on hold, being passed on from representative to representative and being given the "runaround" don't make for happy customers. At MeloTel, we've listened to many stories about how some other providers have treated their customers.
As a result, we do all we can to make sure that we're accessible. Long hold times are not part of the MeloTel way. We make it a point to be able to solve problems and answer questions at the first point of contact. In addition, we make sure to have concerns addressed in an expeditious way. Giving customers the "runaround" is definitely not part of our customer service regimen.
We also hear many of our clients complain about the costs of doing business with some of the other telecom companies. We know that saving money is important to everyone in the world – not just our clients. So we offer business owners the opportunity to let us take a look at their current telecom bills. There is no obligation to make the switch to MeloTel, but we're happy to discuss how we can save you money.
Once we take a look at those bills, we'll be able to pinpoint exactly how much money can be saved if MeloTel becomes your provider. Our customers find that this is one of the best ways that our brand shows good listening skills. No one likes to pay more for their services than they have to. This is especially true when the service isn't all that great. So why pay more when you're getting less?
"I'm so thankful for the money that MeloTel is saving me," offered our new client, "I really hadn't realized that I could save this much. And it isn't like you guys are skimping on the quality either. The fact that I'm getting as much as I am from you guys for what I'm paying is actually kind of shocking. How do those other companies get away with what they're charging?"
We'd love for you to give us the opportunity to listen to your biggest concerns. Whether you are looking for our Telephone Services or you would like to redesign your website, MeloTel provides top quality at incredibly affordable prices. If you'd like a new company logo or a commercial jingle recorded for you, MeloTel will answer your call – and truly listen! It's as simple as dialing us up at 1-888-MELOTEL.