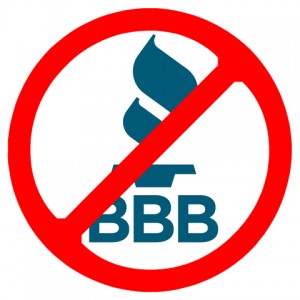 At MeloTel, we strive to provide the ultimate customer experience. Our clients can attest to that. And as far as we're concerned, that's what truly matters most. We operate under a strict set of rules that we basically refer to as our Quality of Service Guarantee. By adhering to these self-imposed guidelines, we ensure that each and every one of our customers are getting us at our very best.
There are consumers out there, however, who feel that some companies require validation by another governing body. At MeloTel, we are of the minds that one's own experience is the best form of research. If you personally have had a great experience with a company, would that not be enough to considerate it reputable? We believe so. But nevertheless, MeloTel was once a member of the Better Business Bureau.
You see, many consumers look to the BBB to validate companies that they may consider doing business with. But after some careful thought and consideration, MeloTel has decided that it no longer requires validation from the BBB to consider itself a legitimate company. In fact, we feel that it is unfortunate that anyone would look to the BBB for validation at all. And here's why…
The general public puts their trust and confidence in the Better Business Bureau to determine which companies are truly above par when it comes to quality products and customer service. However, companies that are looking for such good reviews are actually required to become members of the BBB in order to receive such positive ratings. Is that not the same as buying good publicity?
At MeloTel, we are very mindful that we are also customers. This is what keeps us grounded and diligent about treating our customers as close to royalty as we possibly can. However, we have come across businesses that we have had some very poor customer experiences with. Yet, these same businesses have apparently received top-notch ratings thanks to their membership in the BBB.
Is the Better Business Bureau truly doing its due diligence in ensuring that the ratings they hand out are accurate? How does the public truly know how accurate these ratings are? Our experiences, here at MeloTel, have led us to believe that the BBB isn't completely up to snuff in this department. One of the mission statements listed on the BBB website is to "Embody Integrity". We question that.
Perhaps, the thing that honestly calls the legitimacy of the BBB into question the most is the fact that it considers itself a non-profit organization. Meanwhile, the top executives at the Better Business Bureau make more than $400,000 a year. Certainly, someone is collecting some profits somewhere. At this point, it appears as if the BBB are more interested in turning profits than establishing credibility among businesses.
MeloTel, as we alluded to earlier, is no longer a member of the Better Business Bureau. We welcome any questions or concerns that you may have regarding this decision and ask that you give us a call at 1-888-MELOTEL if you wish to discuss them. We can promise you one thing, though. MeloTel will continue to provide the best products and customer service regimen in our industry. And we don't need the BBB to prove it to you.