Have you noticed that things look a little different around here? We are excited to announce that we have officially launched the all new and improved MeloTel.com! You know those changes that we told you were afoot a few blogs back? Well, you're now welcome to check them out for yourself. You'll notice that our snazzy new website is complete with a host of exclusive new photos, courtesy of Elegant Shots Photography.
As we reported recently, our good friend Alvincent Gozum visited MeloTel's Markham-based office to snap shots of our staff. In fact, he also visited the offices of many of our clients and snapped a bunch of shots of them as well. For some of his best work on our site, please check out the About MeloTel and Customer Testimonials sections. We have to say that Alvincent did a fantastic job with all of the pictures!
We'd like to thank Global Mentoring Solutions, Benjamin Verde Incorporated, Synergy Marketing, National Projects, Skinjectables, Imprezzio Marketing and Toronto Cosmetic Surgery Institute for offering their testimonials to our website. We are very proud to have not only have them all as clients, but that we could showcase our relationships on the new and improved MeloTel.com.
But back to our website's new design! You'll notice that our homepage now has a sleeker look and an even easier-to-use navigation route. There are "slide up" photos attached to each of the major services that MeloTel offers: Business Phone Services, CRM Software Applications, Web Hosting & IT Support and Creative & Marketing Services. We're actually especially impressed with the photo used for that last one there.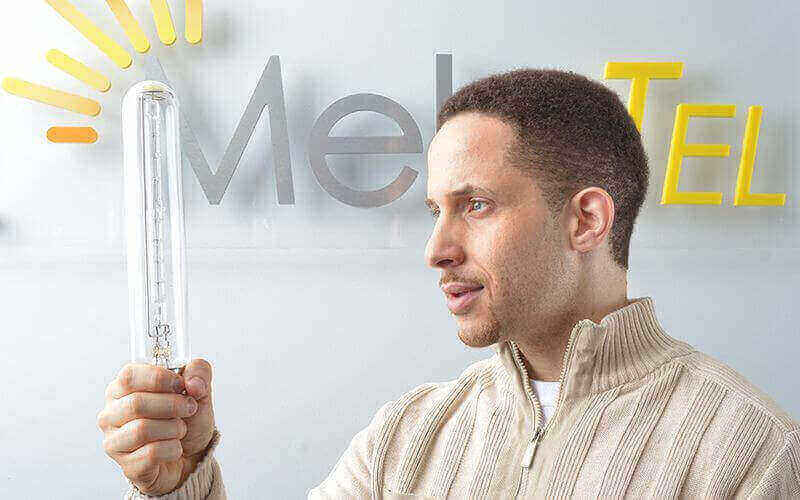 The photo of our Editor In Chief, Dan Faraldo gazing into a light bulb while contemplating his creative ideas is the brainchild of MeloTel President, John Meloche. He just had this vision that a picture of Dan "having a vision" would be the perfect way to convey the creative process behind the many blogs that our team of writers have come up with for our clients from all across Canada. In fact, if you haven't started a blog for your company website, now would be a great time to start!
Dan and his team have helped many a business owner take advantage of the internet and its widespread success in garnering companies more attention. With added content to your site, you'll find that more traffic will be driven to it thanks to higher rankings in search engines. Content marketing is a huge part of any small business owner's marketing strategies in 2015. We'd love to help you be the best at it!
However, we must highlight our Commercial Phone Services. The service that brought us to the dance is the one that continues to deserve our most dedicated attention. For many years now, MeloTel clients have been reaping the benefits of VoIP technology, using their telephones in ways that they never before imagined. You'll notice that the new page dedicated to our phone services lists a number of service tiers to choose from, based on the size of your company.
Please have a look at the various new pages that make up our revamped company website. And, by all means, do not hesitate to call us at 1-888-MELOTEL to discuss any and all of the fabulous hosted and professional services that we have to offer. At MeloTel, we continue to strive towards improving our services – and our newly updated website is only the tip of the iceberg when it comes to us showcasing that commitment. We hope you enjoy it as much as we do!