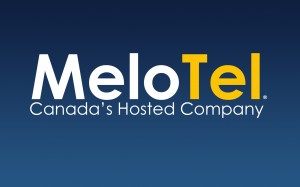 In our last blog, we excitedly reported that this Friday (just two short days away!), we will be unveiling the new and improved MeloTel.com. We're elated about this news because, to our company, the new website is more than just…well, a new website. For MeloTel, the revamped site marks the beginning of a brand new venture for our once-upstart VoIP telephone company.
In 2013, MeloTel has become so much more. And if you've seen our Facebook page recently (there's a hint to go and check it out!), you'll notice some examples of our company's change of direction. Our profile now boasts a brand new, sleekly-designed logo that will be prominent all over our new website this Friday. The new logo communicates our "stepping it up" in the telecom world.
The brand new MeloTel look is highlighted by a clean and slick looking font which separates the "Melo" and the "Tel" only by colour. It's white for the former and yellow for the latter. If you look at most "big boy" companies, you'll notice that, they too, use simple and sleek designs for their logos. And if you've read our last blog (there's a hint to go and check it out!), you'll know that we're all about competing with the big boys.
"We have a fresh new perspective because we're going to compete with the big boys," says MeloTel's President, John Meloche, "To compete with the big boys, we must perform like the big boys." Of course, taking MeloTel to the next level will have a lot more to do with the types of services we provide than it does our snazzy new logo and website.
As the designs showcased on our Facebook profile communicate, MeloTel is so much more than a VoIP telephone company. We specialize in providing both Hosted Services (which include Business Telephone Services, Short Message Service Marketing, Website Hosting and Email Hosting) and Professional Services (which include Website Design & Development, Copywriting & Creative Services, Voice Over Talent and Narration).
"The way we see it, the big boys are actually going to have to learn how to compete with us," insisted MeloTel's Editor-In-Chief, Daniel Faraldo, "John is taking MeloTel to heights that I don't think anyone on the team ever expected. But maybe we should have. Because John doesn't just dream big, he makes good on all of his promises and plans. MeloTel really is an all-inclusive one-stop shop for business owners."
Speaking of which, there is one service that MeloTel provides that we haven't yet mentioned in this blog. And that would be Business Logo Design. What better way to communicate our ability to design world class logos than to show you what we've done to our very own? If you're looking to compete with the big boys in your industry, perhaps unveiling a brand new logo is the best way to start.
Be sure to log on to MeloTel.com this Friday, August 23rd to be among the first visitors in the world to our brand new site. We are confident that you'll find it to be among the most slick and useful websites on the internet. More importantly, we're sure that you'll find MeloTel to be one of the best possible companies to work with if you need services to help grow your small business.