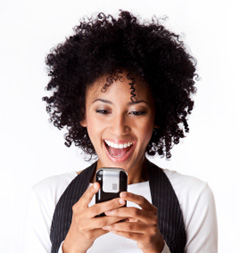 At MeloTel, we talk a lot about pleasing our customers. It is what drives the members of our staff each and every day. And why? Well, we're customers too. We know what it is like to wait in long line ups at the grocery store when only one person is working on cashier. We're right there with you when you're thinking out loud, "Why don't they open another register?"
We know that it's frustrating to wait. We know that it's frustrating to not get what you paid for. And we certainly know that it's frustrating to pay more than what you should! This is why MeloTel offers the type of Business Telephone Services that help for customers to do away with waiting forever and paying too much! And how did we figure out how to do that?
We listened to you! We know that there are many things about the big name telecom companies that don't sit well with a large part of our population. But so many people tend to stick it out with these companies because they figure that there is no place else to go. So, today we figured that we'd let our customers speak for themselves. Here are some of the things that YOU have said about your relationship with MeloTel.
"One of the things I love about MeloTel the most is the fact that they don't force you to commit to anything. I have peace of mind knowing that I'm not tied down to a contract and that I can pay for my business phone services on a month to month basis that I can cancel at any time. This makes me never want to cancel it at all!"
"I love that MeloTel doesn't force you into accepting a package of services that you don't necessarily need. I pay for what I use and that is it. If I don't need the service, I don't pay for it and that's that. With MeloTel, I have the calling features that I need, the number of extensions that suit my business and the equipment that I can depend on to work each and every day."
"Put me down as a proud member of the #VoipRevolution. MeloTel asked me to send them a copy of my phone bill to see if they could save me some money each month. Before I faxed it over, I already knew I was paying too much with my provider. But I didn't realize how much I could save. Not only am I saving money with MeloTel, but I feel like my services have improved too. It's more personalized and personable!"
"MeloTel likes to promote itself as a VoIP telephone company, but I call it a 'people company'. They seem to understand that it's all about the customer. After years and years of working with the bigger brands, I couldn't help but feel that I was just a number to them. No one you speak to really knows who you are. MeloTel makes me feel like I matter."
We would like to thank all of our clients who shared their thoughts with us this week. We truly appreciate your phone calls and emails and we look forward to our growing, long-lasting relationships. At MeloTel, we're happy to say that we really are about our customers. We are about the people. They help our company thrive…so we thrive to help their companies!