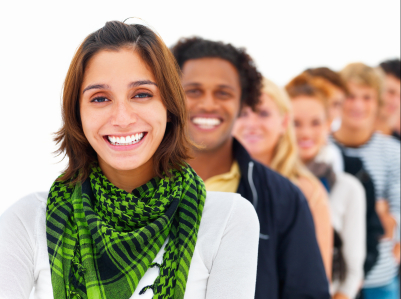 At MeloTel, we believe so strongly in customer satisfaction that we've consulted experts in the field of customer service to discover how to provide the best service possible. That's right. We've consulted you! Who better to ask about customer service than customers themselves? It's because we've kept our ears open to your concerns that we've established a cross-the-board rule of thumb: make customers happy!
It sounds easy enough, right? Sure, you may think that. But if that was true, why is it that we encounter so many new clients who complain about their previous telecom providers? It seems clear to us that many of the big name companies have forgotten about what makes customers happy. So that's where we've stepped in. At MeloTel, we don't just want to provide you with the services you need. We want your happiness too.
Come to think to of it. Our need for you to be happy kind of makes us the perfect boyfriend/girlfriend, let alone VoIP telephone service provider! But then again, that would make sense, wouldn't it? Isn't doing good business about building strong relationships? Well, we sure think so. So here are some things that MeloTel is committed to so that our relationships with our customers last lifetimes.
Saving You Money. The way we see it, it all starts with value. And while we're not willing to compromise the quality of our products and services, we are willing to show you how we can save you money. Even before becoming a client, we'd be happy to review your current telecom provider bills to show you how we can save you money by making the switch to MeloTel.
No Packages. Unlike the big name telecom providers, MeloTel has no intention of tying you down with a contract or insisting upon enrolling you in "bundle" features that you may not need. We cater each service that we provide to each business recognizing the specific and unique needs of all of our clients. You only pay for what you use and nothing more.
All-Inclusiveness. If MeloTel was a vacation destination (not sure how, but follow us on this one), we'd be an all-inclusive resort. In addition to setting you up with your new phone line over the cloud, we'll provide you with all of the equipment and supplies you need. We're a one-stop shop, here at MeloTel. Making customers happy, to us, means fulfilling all of their requirements quickly and easily.
Easy Accessibility. As we've enjoyed mentioning in previous blogs, we make it as easy as possible for customers to contact us. We know that it can be very frustrating to wait on hold for long durations of time to reach a live representative when calling those bigger companies. At MeloTel, we ensure that such long hold times are never the case. Instead, we provide several ways to get quick service.
There's our "Click To Live Chat" feature that allows online users to communicate with a live representative during business hours. You may also set up an online ticket on our home page to be contacted at a time that is convenient to you. Our social media profiles on Facebook and Twitter are always great ways to find us as well. And, of course, we urge you to call us up at 1-888-MELOTEL for the speediest of service. Let us make you happy today!