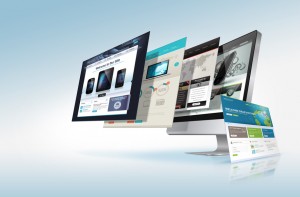 Your website has got to look cool. Let's be honest. Most people have short attention spans. So when they visit your website, if they are not impressed within the first few seconds, it is likely that they will leave. There go your chances to draw in new customers! Simply having a website is not good enough. Regularly updating your website is important. But, as mentioned, it's got to look cool!
At MeloTel, our Web Design Services team provides you with several options. No matter how simple or how interactive you want your website to be, our team can put it together for you like no one else can. This is because we know what it takes to sell your business. And this is what your website should be all about isn't it? Here are a few things that you should keep in mind.
Sleek Design. As we mentioned at the beginning of today's blog, your site has to look cool. Often, that means less is more. Cluttering your home page with too much information can confuse your online users. You want a design that screams "professional" while offering visitors easy access to any information that you wish them to receive.
Checkouts. Depending on your business, you may want to consider allowing your customers to make purchases directly from your website. After all, most consumers prefer to browse online before entering actual store locations. Even if they are interested in buying, they may simply prefer to make the purchase directly from the comfort of their own homes.
Blogs. Naturally, we believe in blogging, here at MeloTel. Blogs are the "voice" of your company. They are ways of keeping in constant communication with your target market. But perhaps, most importantly, the keywords found in your blogs will help for your website to become more popular in search engines. Our Bloggers For Hire department boasts the inclusion of many talented writers who can provide your brand with that voice.
Connections To Social Media. It should go without saying that Facebook and Twitter are among the most popular websites in the world. Millions and millions of people post comments and tweets on a daily basis. Why should your company be missing out on all of this action? Your website should provide direct links to your social media sites to keep your target market constantly in touch.
Contact Page. This one should also go without saying. Your customers need to know how to contact you. But you'd be surprised how many business websites make it difficult for visitors to learn of the most pertinent information that you could give. What is your company phone number? Where are you located? How can people email you? Be sure your website answers all those questions.
Contact MeloTel at 1-888-MELOTEL today to discuss the various things that you would like your company website to include. As mentioned, we have several packages to suit the various needs of business owners all over Canada. Your website is your direct link to a bigger client base. If they are impressed by what they see online, chances are they will be encouraged to visit you in person.