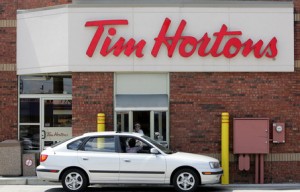 Earlier this week, I took the opportunity to post my first-ever edition of "The President's Rant" as a new feature on the MeloTel Blog. To be honest, it probably wasn't my first actual rant, and I'm guessing it won't be my last! But it sure caused a stir by getting quite a bit of positive feedback from readers and friends.
The overall response was that it was an empowering move to write about my frustrations with Tim Horton's and its alternating queue issue at one of its Pickering locations. In my last blog, I complained about an incident this week, that outlined how the queue is a failed concept.
Believe it or not, shortly after the incident, I had a discussion with both Tim Horton's head office and the district manager for the popular coffee and donuts spot. They have ensured me than an inquiry has been opened, as I am not the only one to have complained about the issue.
They did mention, however, that my complaint was the loudest! For anyone who knows me, they know that I am as honest as they come. So if I feel that it's necessary for my point to be heard, I'll make sure that it is heard…and by a lot of people. Considering that this attitude has been so "empowering" for me and certainly for others, I wanted to share my views once again.
Voicing your opinion is something that some people seem afraid to do. You know the phrase "the customer is always right"? Well, that only came to be after SOMEONE opened his or her mouth and made a complaint. Now, this isn't a call for customers to complain all the time about everything.
But it is a push for those who may feel that the companies that they are dealing with aren't treating them with the respect they deserve. I have personally spoken to many clients who tell me that they "couldn't be bothered" to complain to their previous phone company when things were not working out.
It wasn't until they found an alternative in MeloTel that they finally decided to let their voices be heard. And it was with a resounding "GOODBYE!" to their previous providers. It's important to know that while you are a customer of a business, you have the right to get the service you're paying for. What's the worst that could happen if you bring a problem to the attention of a company anyway?
You don't work for them. They can't fire you! I'll be sure to let you know what happens with the current Tim Horton's situation that I've complained about. Let's hope we can put a stop to "drive thru rage" in Pickering once and for all. And thank you to everyone who has supported me in this quest!