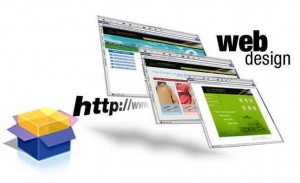 In today's business world, there is simply no way to compete if you don't have a strong online presence. At MeloTel, we've known that for a long time. And as a result, we've helped numerous companies generate incredible increases in their businesses by developing unique, functioning websites to represent their brands. Do you need a website of your own made to promote your business?
If so, you are in luck! MeloTel is now offering some brand new packages that will help your brand look its best on the internet. Our incredible new Web Design Services offer an array of website development packages and price plans to specifically cater to the needs of your company. And you have the choice of paying either a one-time charge or making smaller payments on a per month basis. And here's what you get!
Our awesome new packages include your domain name, on demand maintenance, web hosting, email services and site analytics. That means that in addition to creating your wonderful new website, MeloTel will guarantee that you get 100% up-time and friendly Live Chat, Email or Phone support whenever you have a question or concern about your new site!
You will get the site that you want! It doesn't matter if your preference is to set up a simple brochure website or to unveil a fully featured online shopping cart system, MeloTel will meet your requests while helping you to identify your needs. This is one of the reasons that our client base continues to grow all across the nation.
We make it our mission to ensure that your brand is represented right. From small start-up companies to national brand promotions, our website-building expertise has helped many a company climb to the next level of success in their respective industries. Understanding that starting and running a business is neither easy nor cheap, we've created these new web design packages to make sure that you get what you need at a price you can afford.
Monthly Offer! As we mentioned earlier, our new packages allow you to pay for your new site over a twelve month period, if that's what you'd prefer. Once you have made your final payment, you will gain complete ownership of your website. Of course, we will continue to provide you with our webmaster services and maintenance plans. This requires no credit check, just a personal guarantee and a valid credit card.
Optional Services! As well, once your website is complete, there are a number of other amazing services offered by MeloTel that will keep it up and running and in tip-top shape. They include social media updating and blogging, business card design and print, mobile website design, telephone services and custom application development.
Easy Process! To complete the design process, we would have you complete a detailed online questionnaire to make sure that we get everything you want out of your website. We would follow that up with a telephone interview before presenting our concepts to you. We would also discuss any revisions you would like before making your website live. For more information, call 1-888-MELOTEL!