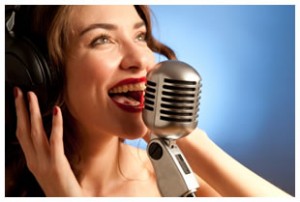 It's time to let your voices be heard. Well, to be more specific, it's time you let our voices be heard – for your company! MeloTel is your one-stop shop for all necessary elements to get your business booming. As you may already know, we employ specialists in Business Logo Design, Website Design and Blogging. Not to mention, we are among Canada's leading VoIP telephone providers.
But that's not all! We're also home to some of the nation's most talented voice over actors! With John Meloche, Daniel Faraldo and Nadia Luna all already having a bunch of musical numbers under their belts, it should go without saying that MeloTel Voice Talent Production team is where the talent is. But more importantly, that talent can be put to great use for your business!
If you're looking for a radio jingle or even a simple outgoing message for your phone service, MeloTel has the right voice for you. Male or female. English or Spanish. High-energy or soft and soothing. Narration, singing or rapping? The sound and style you're looking for will be provided to you. We literally deliver everything you need.
Want some proof? Well, as you may know, John and Nadia are already deep into the Christmas spirit. They recently released Uncle John's Holiday Hits 2012 – a collection of songs to sweeten your season. Daniel has also released a number of hip-hop singles this year with his group, Perfeck Strangers. Be sure to click on the links provided to download these projects from Bandcamp for FREE!
Of course, MeloTel doesn't just do music. We can deliver everything from dry voiceovers (which are voiceovers only, without music) to music production and sound effects to go along with your ad. We also provide the concepts, copyrighting, voicing, music, jingles, and full production of your media signature. As we mentioned, MeloTel serves as your one-stop shop for all broadcast and multimedia creative needs.
Voiceover ads give your company a personality. It communicates to your audience if your place of business is fun or strictly serious. There is nothing wrong with either depending on what type of business you own. A family restaurant, for example, could make great use of a humorous ad complete with music and sound effects.
A law firm, on the other hand, may require a crisp, clear and professional voiceover to convey its dedication to finding justice. Whether you need a serious and dramatic read or even a sexy, sultry and soothing voice to reach out to your new customers, our Voice Over Production team has got the voice you need.
For more information about our Voiceover services, be sure to contact Nadia at 1-888-MELOTEL. We have a variety of packages and prices that are sure to work within your budget and get you the final product that you've been dreaming about. It's time to let your voices be heard – through the voices of the talented team at MeloTel!