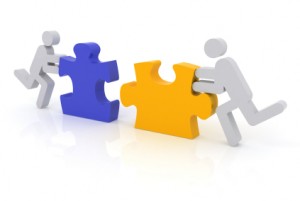 Most business owners are constantly thinking of ways to promote their businesses without overspending. And while there's many ways to do this, one of the best methods of cost-effective advertising is cross-promotion. Essentially, this strategy costs a business owner nothing save for a little bit of effort in helping out an affiliate.
Naturally, in return you will be receiving an advertising push from another business that may help you to attract customers that you may never have met otherwise. On ArticlesBase.com, it states that "cross promotion is one advertising strategy that not only increases your client base, but with the right products and services, it can help you reach out to as many clients in an efficient, credible and memorable manner."
It's actually quite easy, insists the site. And the best thing about it is that it works to everyone's advantage. As long as you are working with a credible company – no matter how big or small – your brand will have an easier time reaching out to its target market. Essentially, you are getting involved in "shared work".
The key is to work with an affiliate who shares your target market. That way, you know that your business will be advertised to the appropriate demographic. As ArticlesBase.com points out, this strategy helps you to not only increase your own client base, but it will provide your target market with an advertising campaign that may surpass bigger competitors.
So how do you actually cross-promote? Cross-promotion may occur in a number of ways. Joint media appearances are one of those ways. Collaborating with team members from more than one company at a particular event means that you will be able to pass out more promotional material to more people more efficiently.
How about online advertising? This inexpensive practice can go a long way. Something as simple as a link or ad swap on your company website can do the trick. That way, everyone who visits your affiliate's website will know about you. Everyone who visits your website will know about them. It's a fair trade-off that won't cost you a thing!
It's all about building a team within your industry. According to ArticlesBase.com, "By getting on a team, a small business have more chances of reaching out to as many target clients without having to spend so much for their marketing campaign. Not to mention that small businesses are able to stand out collectively, giving them an opportunity to compete with the other bigger fish."
With that being said, we'd like to throw out a plug for our friends, Perfeck Strangers. The Toronto-based hip-hop duo who put MeloTel President, John Meloche in their debut video "Ghetto" have just released their debut album, Series Premiere. You can download this amazing 12-track LP for FREE on the URBNET Records website. Enjoy!