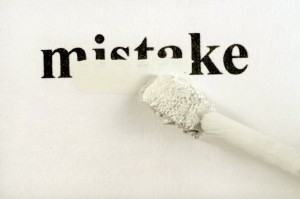 Nobody's perfect. That's not just some cliché, it's the truth. It's impossible to create your empire in a day. Making your business a success requires a lot of hard work and dedication. But, perhaps more than anything, it takes a lot of patience. Trial and error, learning by experience and getting up after a fall are all ingredients to making yourself a success in any industry.
Another cliché that you might be used to hearing is "practice makes perfect". It's important to know that how you started is not how you will finish. Keeping in mind that you may have a long road ahead before you reach your ultimate goal will keep you both level-headed and focused. Rome wasn't built in a day, right? Hey, we're full of clichés!
The point to all of this is to encourage entrepreneurs to enjoy the process of getting their businesses off the ground and to a point when they are running smoothly. In truth, there will always be obstacles, and you won't always handle all of them well the first time around. MeloTel itself started by calling itself a "telephone company".
But through learning a lot more about the needs of our customers over time, we were able to develop many more services that met those needs. This helped us to become a much bigger entity as a brand. Through several years of trial and error, we introduced and even eliminated a number of services. Our current roster of available services is made up of a list of some of our most popular features. This took time to develop.
In addition to providing VoIP telephone services and equipment, MeloTel is also a very successful provider of voice over ads, blogs, website creation and logo design among many other services. Getting to this point didn't happen without making mistakes. And our clients are no different than us. In fact, among our most successful clients are those who learned through their own mistake-filled experiences.
"I used to offer same-day shipping," explained one of our clients, "This helped for me to get a lot of orders for my products. So much so that we couldn't actually meet the demand. We ended up angering many customers because we simply weren't able to get their orders out on time. Today, we still offer very timely shipping but we don't make promises we can't keep."
Making mistakes is a part of life. And it's bound to be a part of your experience as a business owner. Don't be afraid to make mistakes – just be sure to learn from them. These experiences will only help you to develop your company into a top-notch brand. Whatever doesn't kill you makes you stronger, right? Hey, sometimes, clichés just make perfect sense.
Speaking of perfection and the fact that no one is perfect, the most recent video by the Toronto hip-hop duo Perfeck Strangers entitled "Work To Do" wasn't made perfectly either. Just like every other film production ever made, the video required numerous takes as a result of a number of mistakes. The internet sensation starring MeloTel President John Meloche, was recently followed up by a video of bloopers and deleted scenes. Check it out below!