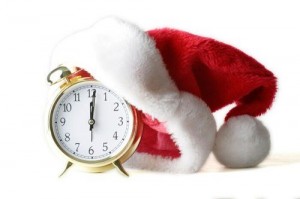 Christmas comes Sunday! And we know that many of you are ultra-excited about the big day. We sure are, here at MeloTel. Commonly known as the season of giving, the end-of-year holidays bring about a certain sense of generosity that seems to make them so worth celebrating. But we know that being generous doesn't necessarily mean that you have the time to prove it.
In other words, we understand that there is likely a number of you who still haven't completed all of your Christmas shopping! What to do with just two days to go? Well, fear not. We have some last minute shopping tips that will help ease your mind as we head into the holidays this weekend.
On TheFinancialBlogger.com, we found some excellent tips that we'd like to pass along to you. The first is to keep it simple. A lot people spend a lot of time looking for that "perfect gift". But sometimes it's best to simply "get back to the basics". Remember that the holiday season is mostly about spending time with family and eating amazing food with those you love!
Consider these things when considering your last minute gifts. Perhaps they won't come in a package. Instead, maybe spending some time with loved ones or taking them out for a bite is all that is needed. However, if you plan on hitting the mall, be sure to NOT go shopping after work!
According to TheFinancialBlogger.com, if you visit a shopping mall right after work, you are most likely to send your stress levels soaring. Between finding parking and waiting in those long lineups, you're pretty much guaranteed to have a frustrating time. Is there any way to get some shopping done on your lunch break today?
Or is there a close friend who may be willing to pick a few things up for you? Try not to put yourself in a stressful situation when scratching those gifts off of your list. As well, after work, you may be tired and your mind may not be in the best position to make good buying decisions. You don't want to be hasty and pick up the wrong things.
"Just get gifts cards," suggests the website, "This is simple enough. If you can't find the right gift, find the right store at least. Gift cards are often viewed as being 'not thoughtful' but who really cares? If a friend judges you for your gift than they're not much of a friend in the first place."
Don't forget to stick to your budget. Just because you may have "slacked off" doesn't mean you have to empty your wallet to make up for it. Overspending won't help you to keep it cool once the credit card bill arrives in the new year. And hey, if you can't get all your shopping done this weekend, simply wait until after Christmas. After all, everyone loves a Boxing Day sale!