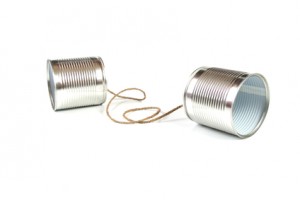 Whoops! Guess we had a bit of a false alarm there! Last Friday, we blogged about the near-arrival of President John Meloche and his wife Kathryn's baby Mark. The thing is, Mark isn't due until this Friday! Perhaps we should chalk it up to the soon-to-be father's excitement. John was busy on his Facebook page last week (when isn't he busy on this Facebook page?), anxiously awaiting the arrival of his son.
And we thought he was almost here! So we did get a bit ahead of ourselves announcing his impending arrival last weekend. But can you blame us? Having a child is obviously quite an amazing, life-changing experience. And now the anticipation for the newest arrival into the MeloTel family has only grown! Needless to say, we look forward to blogging about Mark's official arrival this coming weekend.
It's a good thing that this was actually a "pleasant" mistake. Too often, misinformation leads to bad results. In the business world, getting your signals crossed up can often turn into the loss of a lot of money. Communication always has been and always will be integral to the strength of any relationship. At MeloTel, we take our clients' abilities to communicate seriously.
It's a key reason we focus our energies on providing top-notch quality products and services that allow our customers to be great communicators. Take, for example, our All Inclusive Phone Offer. Not only do we provide telephone services at much more affordable rates than what are clients are used to, but we also provide top-quality phones. And did we mention that you get one free?
Included as part of your phone services with MeloTel is a free Polycom SoundPoint IP331 telephone. It is a 2 Line Capable Phone that sells at a retail value of $129.99. Along with its power adapter that generally costs $19.99 as well as the standard $15.00 shipping charge, this free phone gives our clients a savings of $164.98. Not a bad deal, we think!
In addition, MeloTel also offers the extremely helpful and convenient Single Number Reach feature. Especially ideal for business owners who are constantly on the go, this feature is a Virtual Phone Number service that allows you to forward your local number to up to five different numbers of your choice. This way, you will get each of the phones to ring simultaneously no matter where you are in North America!
The Single Number Reach feature also allows you to receive voicemails to your email as WAV files. And, of course, you'll get caller ID with that too. All of this for just $25.99 a month! With this feature, you are guaranteed to never miss another important call. This is especially important when you are travelling. As we mentioned earlier, you have to be able to communicate well for business to be great.
Contact this single number: 1-888-MELOTEL. We love being in contact with clients who like to both save money and serve their customers efficiently. We take great pride in helping our clients service their customers in ways that they never thought possible. Accomplishing this is achieved through methods that make staying in touch a whole lot easier. Let's keep those lines of communication open!