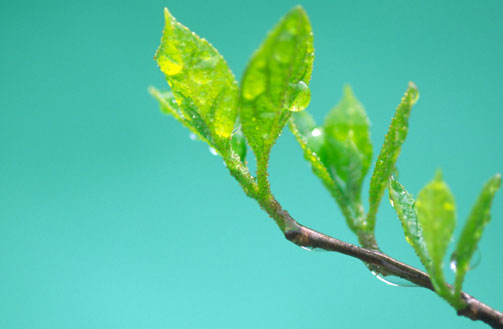 Now, as we are quite sure you're already aware, MeloTel is neither a soap company nor a hip-hop record label, but we sure do like to keep it "fresh" around here. As a result, you may have noticed that our snazzy website has gotten just that much more snazzy over the past couple of days.
Of course, web design is one of our specialties here at MeloTel. Our motto, you may remember, is "MeloTel doesn't sell websites…MeloTel builds websites that sell!" We often encourage our clients and even our closest friends to ensure that their websites are all things user-friendly, eye-catching and consistently kept up-to-date.
So, by all means, it's important that we practice what we preach! Our new home page has become a lot more sleek recently, as we have gone ahead and settled on a solid colour scheme. The calming green tones against the navy blue backing help for the introduction to our website to be a more pleasant experience.
Sometimes too much colour just makes for confusion. Many online users comment that the "easier a website looks to use, the more likely it is that it will be used." Simple enough premise, right? And since green is known to have that calming effect (apparently, this is why entertainers wait in "green rooms" before a performance), we thought it worked perfectly for our brand.
You will also notice that we have gone the "eye-catching" route by having a rotating graphic appear atop our home page. Not only do these images evoke intrigue in visitors to our site, but they each represent links that will allow you to quickly visit different areas of MeloTel.com. This way, you can learn more about the services you are most interested in without having to go on a long search for their whereabouts on our website.
The updates to our site are not done yet, by the way. There are many more to come that will serve to make each visit an informative yet painless one. Naturally, increasing visits to the website is a key component to growing our business. As a result, this blog will continually provide you with all of the updates you need.
These "updates" in the form of opinion pieces, news posts and other information articles about our business is one of the best ways we keep "fresh". In fact, we offer freelance blog writing as a service to those companies who would like to keep their websites continually updated, but may not have the time to do so themselves.
So keep coming back to visit us here at MeloTel.com. Or better yet, give us a call at 1-888-MELOTEL to discuss how we can get visitors flocking to your company's website!