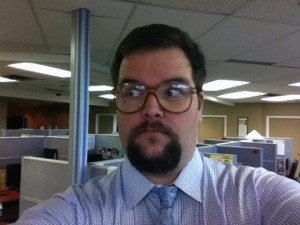 Well, it looks as if he's done it again! MeloTel President John Meloche has been appearing all over the internet this past weekend as a Bill Lumbergh-esque version of himself in the new short film, "Work To Do". As we blogged about last week, "Work To Do" represents the fourth music video from the Toronto hip-hop duo, Perfeck Strangers.
Including MeloTel's Editor-In-Chief, Daniel Faraldo as a group member, Perfeck Strangers was able to secure John's acting services for what they consider his "finest acting performance to date". "John was fantastic in his role," insisted Daniel, "Not only did he have his lines down, but his mannerisms as the obnoxious boss from Office Space were completely spot on."
A reworking of the role originally played by Gary Cole in the 1999 film, John's version of "Bill" is the centerpiece to the new video. "Work To Do" represents the struggles that Perfeck Strangers have in trying to achieve the ultimate dream of attaining success in the music industry. Using the office work environment as a metaphor for the grueling process, the video conveys that hard work is always required.
John's character, however, depicts the obstacles that may stand in the way of your happiness during the journey towards superstardom. But how exactly did John pull off playing such a despised leader when he's the opposite type of boss in real life? The answer is simple. The entire experience was simply about having fun. After all, no one seems to enjoy having fun like John does.
"John was a very natural actor," said director Andre Rehal, "He might have another career in playing bosses in addition to being one." This isn't surprising considering that John spent a number of hours in his own private rehearsals studying scenes from the Office Space film to properly get into character. "He was as close to the real character as possible," added the video's editor, XCON of Will X Movement, "…minus the suspenders."
"I'm shocked that I haven't seen John in any of my acting classes," added Daniel, "His comfort level in front of the camera could convince you that he actually teaches them. Without John's performance, the video isn't half as good as it is. I especially crack up watching the birthday scene. His reinterpretation of the lines is perfect. But the thumbs up he gives to the drone-like singing of his employees is the best!"
Not to be outdone by his partner-in-crime, MeloTel's Administrative Executive, Carlos Paz also makes a cameo appearance in "Work To Do" as well. Easily the company's sharpest dressed employee, Carlos brought his sophisticated swag to the screen in his music video debut. The birthday cake scene mentioned by Daniel is the easiest place to catch Carlos' performance.
Check out the brand new "Work To Do" short film starring John Meloche below. Feel free to click "like" and share it with your friends. At MeloTel, we are very proud of the talents owned by the various members of our team. And we can put them all to great use for your company too! From Voice Over Production to the writing of blogs on your site, The MeloTel Team can do it right. We look forward to you giving us more work to do!