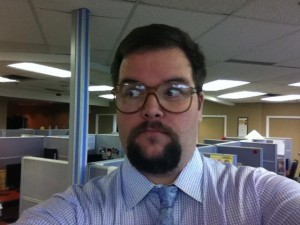 Friends and clients of MeloTel are already well aware that our company President, John Meloche is quite the multi-talented entrepreneur. Moonlighting as a musician, journalist and actor, John insists that these not-so-hidden talents are just hobbies of his. After all, how would he find the time to persue a career in the arts while handling all of his responsibilities as the big boss?
Nevertheless, John has managed to pull off quite the interesting feat of being a "do-it-all". And with the release of the official trailer for the upcoming music video "Work To Do" from Toronto hip-hop duo, Perfeck Strangers, John has proven that once again. Scheduled to make its world premiere in early November, "Work To Do" stars John as a Bill Lumbergh-esque version of himself.
A parody of the film Office Space, the short film showcases John in his role as office boss – very much in the vein of the hated Lumbergh from the original motion picture. In the trailer, John is shown walking throughout his office on a mission to locate group member, Promise in order to lure him into work for the weekend. According to the veteran rapper, John's impersonation of the Lumbergh character was spot-on.
"John's stellar interpretation of Lumbergh from Office Space was nothing short of award winning," says Promise, "The guy's a total pro. You would think that he's been acting for years the way he got into character so well. He looked the part and really sold the concept of being an obnoxious boss. I can't imagine anyone else in that role for this project."
"Work To Do", by the way, does not mark the first collaboration between John and Perfeck Strangers. In fact, John made his acting debut just about one year ago in the group's first-ever video, "Ghetto". Playing a somewhat equally obnoxious car owner, John displayed signs that he may have missed his calling – that is, of course, if he wasn't such a whiz at running a thriving VoIP telephone company.
"John didn't even have to audition," jokes Dan-e-o, the other half of Perfeck Strangers, "His personality makes clear that he would be comfortable in front of the camera. He's super easy to work with and a lot of fun on set. If it were up to me, John would get a role in just about any film project that I'm involved in. When you see 'Work To Do', you'll know why."
The trailer for "Work To Do" was released virally just yesterday and John's performance is already getting rave reviews. According to Perfeck Strangers, however, we haven't seen anything yet. The short film is set to make its world premiere at the Big Ticket event in Toronto on November 9th before going viral the following week.
It takes place at Velvet Underground at 510 Queen St. West and you're all invited to come! The video release party is guaranteed to be an exciting event. In the meantime, please feel free to watch, comment, like and share the "Work To Do" official trailer starring MeloTel President, John Meloche!