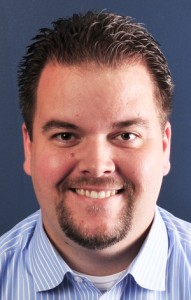 VoIP expert. Website designer. Voiceover talent. Rapper. Actor. As if there weren't already enough accolades being accumulated by MeloTel President, John Meloche, he's gone and added another credit to his ever-growing list of accomplishments. Try "singer" on for size. And not just any singer either!
This past weekend, John recorded an entire Christmas album! That's right. Never one to be without an abundance of holiday cheer, John decided to take it up a notch this year by recording his very own unique versions of some holiday classics. Inspired by his neices and nephews, John conceived what is now entitled Uncle John's Holiday Hits.
Recorded, mixed and mastered by Secret Suburbia frontman, T.J. Habibi (who also worked on John's rap single "888-MELOTEL" earlier this year), the new Christmas album is John's way of saying "Merry Christmas" in a way that only he can. It seems that there is no endeavor that the MeloTel President is fearful of undertaking.
Not only did John try out his singing chops for the FIRST time in a recording studio this past weekend, but he completed an entire project in one session! This type of productivity is practically unheard of. Generally speaking, a musician will visit a studio for a recording session and would take several hours to complete just one song.
After John's Sunday session was completed, T.J. Habibi tweeted the following from the Secret Suburbia Twitter account: "Just recorded, vocal-tuned, mixed, and mastered a 7 song Xmas album in less than 8 hours! Maybe a record for me? Shout out to John Meloche!"
Veteran hip-hop artist and friend of John Meloche, Dan-e-o couldn't help but weigh in on John's new venture: "I knew John had some untapped talent in him after we recorded '888-MELOTEL'. But doing an entire CD project in one studio session is ridiculous! The guy's a beast. Who knows what he's going to come up with next?"
Dan-e-o's latest single "Ghetto" is his first as part of the duo Perfeck Strangers. As we reported just a couple of weeks back, the music video for "Ghetto" features John's acting debut as an overzealous car owner. Having written "888-MELOTEL" and then casting John in his video, Dan-e-o has seen first-hand that anything is possible!
And here's the best part about John's new venture into singing…His new Christmas album, Uncle John's Holiday Hits is available for your listening pleasure for free, right now! Perhaps setting a record for quickest recording-to-release date ever, John is providing his Christmas gift to you early. Click the play buttions below to hear John sing your favourite holiday classics!
Little Drummer Boy
Little Drummer Boy
Have Yourself A Merry Little Christmas
Have Yourself A Merry Little Christmas
Silver Bells
Silver Bells
White Christmas
White Christmas
Winter Wonderland
Winter Wonderland
Santa Claus Is Coming To Town
Santa Claus Is Coming To Town
Let It Snow
Let It Snow