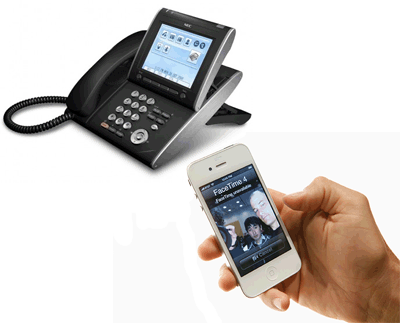 These days, there are so many ways to keep in contact with people that you literally need dozens of passwords to log in to your emails, social media profiles and voice mails. Many people decide to choose just one password for everything they need to log in to. And while some people don't recommend this practice, it sparked quite the creative idea, here at MeloTel.
You have a home phone, an office phone, a cell phone and probably a number of other lines that you feel are necessary to run your business and keep in constant touch with your clients. Wouldn't it be wonderful if you only needed to worry about having one phone number? Well, you need not worry anymore! We've coming with yet another great feature.
Introducing Single Number Reach! From now on, you'll only need to give out one phone number that will guarantee that you never miss another important call again. How so? MeloTel's new Single Number Reach feature redirects your business phone calls to all of your other existing phone services. It's awesome!
That means that when a call comes in to your business, it will ring up to five different phone lines that you have at the same time! It doesn't matter if you're in the office, at home or in the car (using your headset, of course), you will get the call each and every time. Doing business on the go has never been so easy and convenient.
Single Number Reach can provide you with one brand new local phone number and offer unlimited calling. The new phone number, by the way, can ring up to five different numbers simultaneously, anywhere in North America. And, if you are too busy to take the call, the feature also will translate your voice mail into an email for you!
In addition, the Caller ID feature will ensure that you know who is calling you each and every time. Make missing calls a thing of the past. Single Number Reach is the call forwarding feature of the future. And MeloTel is now offering it at only $25.99 per month (plus HST). And the benefits are vast! Check this out…
Find-Me-Follow-Me. This special component to the Single Number Reach feature allows you to prioritize your contact numbers so you can decide which one is best for your customers to contact you with. You can use the feature to select a sequence of phone numbers to call, or have it ring all five available numbers at the exact same time.
Website interface. You are also able to change your forwarding numbers, manage your outgoing greetings and access your voice mail at any time. For an extra $6.99 per month, you can even add a toll free number to give your business that professional "reach me from anywhere at no cost" feel! Call 1-888-MELOTEL to hook yourself up with Single Number Reach today!